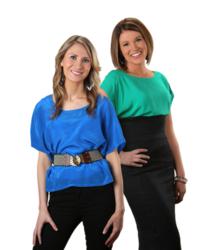 Boise, Idaho (PRWEB) February 22, 2013
Less money means less spending. Most folks are keenly aware of this going into 2013, and major retailers are no exception. Stores like Target report slower sales in January from the higher payroll tax.
Pocketbooks are thinner, but calendars are still packed with expensive birthday and holiday purchases. TheKrazyCouponLady.com founders have expanded the free content on their daily blog to include the very best retail deals on footwear, clothing and jewelry for the whole family.
Like the highly successful grocery couponing strategies that garnered the site national acclaim, the new retail side offers a combination of coupons, promotions and sales to stack savings. Featured deals—verified prior to posting— mean discounts of at least 50% and include numerous tips on how to maximize retail savings:

Never pay full price for retail. With a little legwork, it's easy to find quality websites and daily deal forums that offer low prices. Many retailers like Best Buy now feature price matching programs to meet and beat competitors' prices.
Consider a $79 annual membership in Amazon Prime. For regular Amazon shoppers (a Krazy Coupon Lady favorite) the service nets members free two-day shipping on purchases at a monthly cost of less than $7. Cut out a latte or two per week and it's paid for. For non-members, avoid making lots of little purchases. Instead, bundle Amazon purchases into $25 minimums to receive free Super Saver Shipping.
Shop using cash back sites like Ebates and Apps like ibotta. Signup is free and takes under a minute. Savings (up to 25% in some cases) accrue in a PayPal account, and are returned to members when a pre-set $5.00 minimum is reached. The services differ in one big way: Ebates is only for online purchases, while ibotta caters to in-store shoppers. Each service partners with specific stores, so check the list before shopping.
Purchase discounted gift cards. When purchasing gift cards, consider trustworthy discount sites like Giftcardgranny.com, Raise.com, Plastic Jungle or Cardpool.com, where recipients unload unwanted cards. When reselling gift cards on these sites, remember that sellers receive only a percentage of the card's original value (GiftCardGranny pays 94%).
Use social buying sites. Sites like Groupon, Living Social and Amazon Local allow consumers to purchase vouchers for a cut-rate price to redeem for a full-price product. For example, a shopper may buy a $60 voucher for a $120 worth of products or services. Keep in mind that vouchers come with expirations dates and quantity restrictions.
Consumers who keep these tips in mind will maximize their savings in this tough economy. To find the latest coupons and sales, along with other frugal living tips, visit TheKrazyCouponlady.com.
Heather Wheeler and Joanie Demer, founders of TheKrazyCouponLady.com and authors of Pick Another Checkout Lane, Honey! are money saving, bargain shopping and frugal living experts. With their knowledge and savvy, they've sold over 50,000 books, garnered 5 million viewers per month at http://www.thekrazycouponlady.com, nearly 900,00 Facebook fans and more than 30,000 Twitter Followers.
,