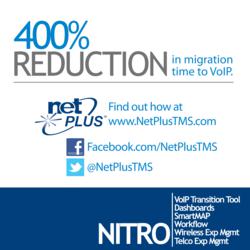 NetPlus provides valuable insight to VoIP and UC transitions.
Gaithersburg, MD (PRWEB) February 25, 2013
NetPlus has been tapped by the International Avaya Users Group (IAUG) to host a breakout session at their annual conference, Converge 2013. The session titled "Automating the Transition from Legacy to VoIP, UC & Beyond" will be given by Jim Gilmour, Product Manager at NetPlus on Monday June 3rd at 4:45pm at the Gaylord Palms Resort & Conference Center in Orlando, FL.
"We are honored that IAUG has chosen NetPlus to give this presentation. It also speaks volumes about user concerns today. Migrating to VoIP and unified communications is a huge pain point right now for many customers. The process is usually labor intensive and time consuming. Being able to automate that process will save customers money and time," said Gilmour.
NITRO VoIP Transition tool has helped customers migrate to VoIP up to two years faster than originally planned in their VoIP migration strategy. By automating 90% of the process and developing templates for the rest of the 10%, the VoIP Transition Tool eliminates the labor hours required to program each phone.
About NetPlus
NetPlus is a leading Communications Management solutions provider for both commercial and government entities. With over 25 years of experience NetPlus offers a suite of solutions for expense management, data validation, fault management, inventory tracking and control, provisioning, and more. Customers like Department of Defense, Department of State, United States Air Force, Avaya, Verizon, and the Pentagon utilize NetPlus solutions for the daily operation of their communications and data network. NetPlus is JITC certified and can be procured through Vanguard and GSA. Headquartered in Gaithersburg, MD, NetPlus is a division of Ventraq Corporation. For more information, visit http://www.NetPlusTMS.com.