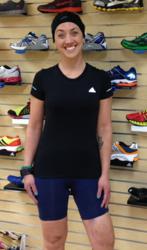 "In order to run again, I needed compression to literally hold things in place," says Colleen. "Aspaeris Pivot Shorts have been my saving grace."
New Haven, CT (PRWEB) February 22, 2013
Aspaeris, a new provider of performance-enhancing, injury-prevention compression sportswear for female athletes, announces the sponsorship of Colleen Kelly Alexander, a marathon runner from Clinton, Connecticut who fights for the warrior princess in all of us. Colleen suffered a traumatic cycling accident only 16 months ago, but she is ready to compete in the NYCRUNS Central Park Half Marathon this Sunday, February 24. She will race to raise funds for a fellow warrior princess and friend, five-year-old Rowan Ella who is fighting kidney cancer. She is also registered to race in the November 2013 New York City Marathon as an Achilles Athlete. Her long-term goal is to compete in the IRONMAN 70.3 Timberman in Gilford, NH. Colleen has been training in her Aspaeris Pivot Shorts (APS™) since the beginning of her rehabilitation last spring and will be racing in them this weekend for the half marathon in Central Park. After this weekend, she will continue training and racing in the newly released Aspaeris Pivot Shorts Gen2™.
"Colleen represents the fundamental strength that resides in the under layer of our compression shorts," explained Aspaeris Marketing Director, Kari Ricigliano on the decision to sponsor this athlete. "She is all about recovery, and I'm sure her performance this weekend will be a personal best to inspire us all."
Colleen Kelly Alexander serves as the spokesperson for the CT Red cross blood services. She is an avid cyclist and triathlete who has undergone 16 surgeries to repair the damage from an accident involving a freight truck while cycling near her home in October 2011. She is running again with the help of the patent-pending Dual Sensory Compression Bands™ in Aspaeris Pivot Shorts™.
"In order to run again, I needed compression to literally hold things in place," says Colleen. "Aspaeris Pivot Shorts have been my saving grace. …I can wear them to the gym and also under my running pants."
On February 24th, Colleen will run a half marathon in New York City's Central Park with friends and her husband. "I will run slowly, but consistent in belief that like all trauma it takes a fighting warrior to survive. Rowan is that Warrior Princess," writes Colleen on her Running for Rowan fundraising site at http://www.gofundme.com/1oeadk. To date, $1,667 has been raised toward the $5,000 goal. Funds raised will assist Rowan Ella's family with medical bills. The five-year-old girl was diagnosed with a Stage 2 Wilms tumor, a kidney cancer, last November.
About Aspaeris
Founded by Samara Innovations, LLC in 2010, Aspaeris is a female-centric sportswear company that strives to protect athletes from injury and enhance their performance with advanced compression apparel. The Aspaeris Pivot Short (APS™) was created to help prevent non-impact ACL injuries in high-performance female athletes. APS™ is a unique compression short that has two layers. The outer short is a high performance compression short designed to support muscles. The inner short uses patent-pending technology called Dual Sensory Compression Bands™ to help guide the athlete into proper position while she pivots and runs. APS™ is the only compression short designed specifically for females that improves performance, speeds recovery, and prevents injuries. In a recent survey, 80% of Pivot Short users reported a performance increase and 62% reported significantly faster recovery time when wearing the shorts after long runs. APS™ is being worn by thousands of new users and has been tested by over 100 premier sports medicine professionals and athletic trainers. APS™ was worn by the fastest all-female Ultra team in the Ragnar Relay SoCal 2012 and is a proud sponsor of the Hartford Marathon Foundation. Athletes can also engage Aspaeris via Facebook and Twitter.To learn more about APS™, visit aspaerispivotshorts.com.
To learn more about the NYCRUNS Central Park Half Marathon, visit nycruns.com
To learn more about Colleen's journey, visit cyclingforpeace.wordpress.com
To learn more about the Achilles Athlete program, visit achillesinternational.org