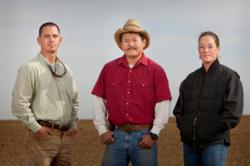 For returning veterans, agriculture provides a unique chance to continue serving our country – ensuring that our food supply is secure, protecting our natural resources and giving us the tools we need to continue leading the world
Davis, CA (PRWEB) February 22, 2013
Farmer Veteran Coalition, a veteran assistance organization, will release a manual aimed at helping veterans launch a career in agriculture. It is the first of its kind to focus on helping service members transition to careers in food and farming. Titled "Veteran Careers in Agriculture: A Resource Guide," the manual will be released nationally, both online and in print, on March 1, 2013.
Given the drawdown of US forces abroad and at home, the release of the manual comes at a timely period for military personnel. More veterans will be in need of services to help them transition to civilian life. This concise but comprehensive manual covers topics ranging from education programs to funding options for farms.
The manual is a culmination of two years of work carried out by Farmer Veteran Coalition (FVC) and its partners. In addition to material explaining how to start an agricultural business, the guide features information and resources about many partnered groups that also assist veterans transitioning into agriculture including Veteran Farm, the National Center for Appropriate Technology (NCAT), and Start2Farm. The guide also includes inspiring stories of farmer veterans who have achieved their dream of having a fulfilling agricultural career.
In his introductory letter to the Guide, United States Secretary of Agriculture Tom Vilsack addresses the tremendous opportunities that the agricultural sector holds for returning veterans. He says, "For returning veterans, agriculture provides a unique chance to continue serving our country – ensuring that our food supply is secure, protecting our natural resources and giving us the tools we need to continue leading the world."
The skills and work ethic veterans bring from their military service are valuable assets when it comes to providing the food and agricultural sustenance that keeps America strong. FVC Founder and Director Michael O'Gorman explains, "Veterans make excellent farmers. They are not afraid of difficult tasks, they stand up when they are knocked down, they understand the need to be acutely aware of everything around them, and most of all, they are driven by doing what is right for their country."
A collaboration between FVC, the USDA and Farm Credit, "Veteran Careers in Agriculture: A Resource Guide" is filled with informational material to aid veterans interested in entering the business of farming and ranching. Print copies are available at no cost to military veterans from the Coalition's Davis office at 508 2nd Street, Suite 206 Davis, CA 95616 and on their website http://www.farmvetco.org in an electronic version.
The USDA Farm Service Agency (FSA) makes direct loans, provides loan guarantees, and offers credit counseling to farmers and ranchers who are unable to obtain private commercial credit. Historically, the FSA has set aside funding for Beginning and Socially Disadvantaged Farmers and Ranchers. Funding is now also available to all veterans. Additionally, Emergency Loans are available for those who have suffered financial setbacks from declared natural disasters.
Farm Credit was created by Congress 95 years ago to ensure that America's farmers and ranchers would always have access to a source of credit that the farmers and ranchers themselves would own. Farm Credit is steadfastly focused on its mission of serving the financial needs of agriculture and rural America. To find your local Farm Credit lender visit: http://www.farmcredit.com.
About Farmer Veteran Coalition
Farmer Veteran Coalition is a not-for-profit organization that connects military veterans with opportunities for employment, training, and places to heal on America's farms. Started in 2008, Farmer Veteran Coalition's mission is to Mobilize Veterans to Feed America. By connecting veterans with farming resources, veteran job opportunities, and education to assist them in building their farm and ranch businesses, Farmer Veteran Coalition helps veterans become successful farmers.
For more information about veteran farming and Farmer Veteran Coalition's mission to mobilize veterans to feed America, call them at (530) 564-1226 or visit them at http://www.farmvetco.org