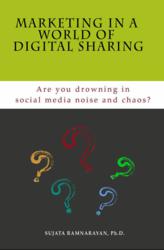 "A fresh and timeless perspective on a timely topic"
San Jose, CA (PRWEB) February 26, 2013
Seventy percent of marketers are using social technologies, yet only 3% report deriving substantial benefit from it across all stakeholders. Many marketers are drowning in social media noise and chaos. There are many issues involving social media, such as the proliferation in the number of networks resulting in fragmentation of audiences, the fact that it is new, and the fact that it requires a very different approach than traditional marketing. Social media communication was once called "word of mouth." Now sharing happens through "word of mouse." These new tools that enable "word of mouse" are becoming an essential component in an increasingly digital world defined and marked by sharing.
"Marketing in a World of Digital Sharing," a recently published book, takes a fresh and timeless perspective to a timely topic, offering directions for a realistic strategy. "It takes a reasoned perspective on a topic that is often full of hyperbole. The book is filled with advice for the marketer that is both practical and strategic. It helps the marketer to leverage social media where it can best impact business performance," says Gordon Wyner, Editor-in-Chief of Marketing Management.
Information packed, yet highly readable, the book wraps up with "Top Twelve Messages," for marketers, such as: "Television did not make companies successful. Their creative strategies in using it made them successful. Social media is the same way. It is a channel. Success depends on fundamental marketing principles."
About the Author: Sujata Ramnarayan, Ph.D, a Strategic Marketing Consultant, and formerly, a Gartner Group Senior Analyst and an Assistant Professor of Marketing, offers a well-researched and substantiated perspective on a timely topic in this book. She currently offers business advice through her company SMStrat. Dr. Ramnarayan has most recently published articles at MarketingProfs.com and Marketing Management. Her published articles and her other blogs are available at her website. The book is available for purchase in print and digital formats at Amazon, Barnes & Noble, and locally at Books, Inc of Palo Alto, California where she will officially launch her book on Thursday, March 7th, 2013.
To learn more about the book "Marketing in a World of Digital Sharing: Are you drowning in social media noise and chaos," visit http://www.smstrat.com/.
ISBN13: 978-0-9859386-0-4 (print)
ISBN13: 978-0-9859386-1-1 (ebook)
*228 Pages
*User Level: Beginner to Advanced
*Available eBook Formats: EPUB, MOBI
*Print Book Price: $16.95
*eBook Price: $16.95
###