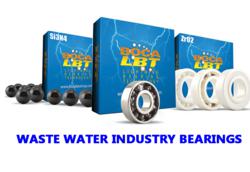 Boynton Beach, FL (PRWEB) February 26, 2013
Boca Bearing Company, one of the most trusted names in the ceramic bearings industry, announces today the release of its ceramic bearing line specifically designed for the harsh environments and the machinery used in waste water management facilities. Boca Bearings provides solutions for waste water treatment facilities by offering bearings which can work in different types of machines and steps of the waste water management cycle.
Boca Bearings' ceramic bearings require little to no lubrication or other maintenance and can be therefore applied in the different waste water treatment machinery. Since these bearings are virtually maintenance-free, they will reduce and minimize bearing related down time of plant's equipment.
Facilities around the globe have come to rely on our innovative ceramic and ceramic hybrid bearings designed for operational services in different waste water purification environments. As ceramic bearings do not corrode or rust they can be used with different chemicals, from ion or sodium to alkali. Boca's bearings can be effectively utilized in these different stages of the water purification phase.
All bearings can be supplied without lubrication or with specialty lubricants, such as a solid poly lube or ultra-dry lube. This will allow the bearings to be utilized in well equipment, purified water or water ready for consumption
About Boca Bearing Company
Boca Bearing Company, headquartered in Boynton Beach, FL, is one of the most trusted names in ceramic bearing and lubrication technology. The reduction of rolling resistance and conservation of energy has been the company's hallmark since 1987. Boca Bearing Company is a one-stop-shop for everything from prototyping to production.