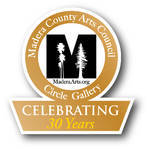 Thirty years and still going strong with partnerships throughout Madera County, it is time to celebrate, acknowledge the work so far, and set the stage for the future of the arts in Madera County
Madera, CA (PRWEB) February 21, 2013
The Madera Arts Council will commemorate 30 years of promoting art and artists in Madera County with a community celebration March 23.
The evening will take place at the Hatfield Hall at the Madera District Fair Grounds from 6 to 9 pm.
"Thirty years ago Nancy Clute, local artist and educator, gathered a small group of citizens together to begin planning for an arts council to promote the arts in Madera County," said Julia O'Kane with the arts council.
"Thirty years and still going strong with partnerships throughout Madera County, it is time to celebrate, acknowledge the work so far, and set the stage for the future of the arts in Madera County," she said.
The evening is set to be a fun celebration of all the council and the county's artists have accomplished over the last three decades while also setting the stage for future growth.
"Madera is poised to be a destination art center. The arts can enhance the quality of life in the community and promote the economic development of the community," said O'Kane.
"Come casual, come glitzy and be prepared to be entertained as you show you support for the arts," she said.
Tickets cost $75. To purchase or find out more, call 559-661-7005.
-END-