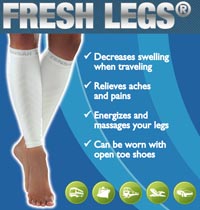 Our customers absolutely love the Zensah compression leg sleeves. We are so proud to have Zensah in our store.
Miami, FL (PRWEB) February 26, 2013
Zensah®, a Miami based compression apparel company, has announced its plans to return to the 2013 Travel Goods Show in Las Vegas, Nevada. The TGS Show takes place February 27 to March 1 and attracts thousands of exhibitors and buyers from all over the world seeking the latest innovations in travel. Parker Robinson, spokesperson for Zensah says, "We receive great feedback on a daily basis from people wearing our compression sleeves for travel and wellness. Attending the Travel Show is a great opportunity to introduce even more people to the benefits of compression."
New argyle compression socks, which feature Zensah's signature fabric and provide optimum compression for travelers in several fun colors, will be on display at Zensah booth #1623. Also on display will be Zensah's compression leg sleeves, the number one selling compression leg sleeves in the USA, as well as their Smart-Touch gloves ideal for anyone that needs to use a tablet, smart phone or mp3 players while on the go in cold weather.
Compression socks and sleeves are a must-have in the travel market due to its ability to reduce leg fatigue, soreness, swelling after long hours of sitting, edema, and deep vein thrombosis (DVT). Many travelers often experience swelling in their lower legs. Wearing compression socks and sleeves helps blood flow more easily throughout the leg and blood does not get the chance to stay motionless and clot. Wearing compression socks and sleeves enables travelers to have fresh legs throughout long flight hours and long days at the office.
Toby Jones of Rapp's Luggage and Gifts says, "Our customers absolutely love the Zensah compression leg sleeves. We are so proud to have Zensah in our store."
Up until now, travel compression socks available on the market were uncomfortable and bland. Zensah is working to change that experience by making compression socks easy to slip on and off, comfortable for use over extended hours and available in colorful options. Zensah® Compression Products are made in the United States and Italy of the highest quality fabrics. A seamless design ensures that Zensah® products are not only made to last, but also the most comfortable travel apparel available.
Zensah® Compression is available at travel specialty stores throughout the United States and can be found online at http://www.getfreshlegs.com.
About Zensah®: Founded in 2004, Zensah is a leading travel compression apparel brand. Offering compression products for travel and wellness, Zensah provides the optimal compression level for comfort and function and is the primary choice for travelers. The company's Sales and Marketing office is based in Miami, Florida. According to Leisure Trends Group Specialty Running RetailTRAK™, Zensah® has the number one selling Compression Leg Sleeves in the US for Running Specialty.
Suzanne Kerpel
marketing(at)zensah(dot)com
ZENSAH COMPRESSION APPAREL
(305) 935-4619