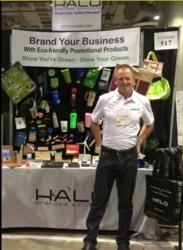 I give eco-conscious business and community leaders a chance to see the latest eco-friendly promotional products.
(PRWEB) February 26, 2013
The HALO Branded Solutions Los Angeles-based office shared ideas on how to inspire a green workplace and increase business, showcasing eco-friendly promotional products at the Green Festival in Los Angeles.
HALO Branded Solutions' trade show booth showcased energy-efficient, solar-powered keychains, flashlights and calculators, as well as a variety of organic, all natural, and recycled content promotional products made from corn plastic, bonded leather, biodegradable materials and bamboo, providing attendees eco-friendly promotional marketing alternatives.
"I give eco-conscious business and community leaders a chance to see the latest eco-friendly promotional products. I show them how they can promote their business or organization while preserving our planet," said HALO Branded Solutions, Account Executive Dan Anderson.
The Green Festival is the largest sustainability event in the world, hosting organizations and businesses with programs and products that help restore the environment and reduce waste, ensuring all exhibitors are screened for their commitment to environmental sustainability and social justice using Green America's Green Business standards.
The Green Festival is a premier sustainability event hosted annually in Los Angeles, New York City, Chicago, San Francisco and Washington DC. The 2013 Green Festival is scheduled as follows: New York City, April 19-21; Chicago, May 18-19; Washington DC, Sept. 21-22; San Francisco, Nov. 9-10. Visit GreenFestivals.org for further details.
For more information about this story and promotional products in Los Angeles visit: http://www.halo.com/promotional-products-los-angeles-california/halo-exhibits-co-friendly-promotional-products-at-los-angeles-green-festival.aspx
About HALO Branded Solutions
HALO Branded Solutions, headquartered in Sterling, Illinois, is a leading promotional products distributor in the $18 billion per year promotional products industry, with regional account executives in key cities across the country including in the Los Angeles-area. The company serves over 40,000 businesses and organizations offering the best, and most competitively priced promotional products, including a large selection of eco-friendly options supported by world-class customer service and a nationwide sales force of over 900 selling professionals.