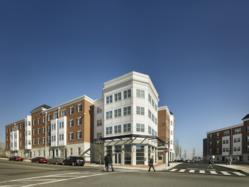 The Newark Housing Authority is changing the landscape of public housing in this city
Newark, NJ (PRWEB) February 22, 2013
City, state, and federal officials were on hand today to mark a major milestone in the revitalization of Newark's Central Ward with the grand opening celebration of Baxter Park, a newly constructed, mixed-income housing community serving families with a variety of incomes, and one of the city's "greenest buildings."
"We are so proud to stand here today and debut this beautiful housing community and the wonderful amenities that will make such a significant difference in the lives of our Newark residents," said Mayor Cory Booker, who was among the dignitaries participating in the official ribbon-cutting ceremony. "We are confident that this new modern housing, which will appeal to families with a broad range of housing needs and incomes, as well as significant new retail opportunities, will be a continuing catalyst for the rebirth of this entire neighborhood," Booker said.
Located on the former site of outdated and obsolete public housing, the new Baxter Park is already fully occupied, a sign of how much this housing was needed in the neighborhood. The Baxter Park development offers 90 rental apartments in two, four-story elevator buildings along Wellington Way in the historic University Heights neighborhood, connecting the University communities to the Downtown University Cultural District and the Broad Street Station District. Amenities include a community room and a computer lab, as well as 3,000-square feet of street-level retail space.
The new community also features a host of green building components, including new solar voltaic panels that will generate electricity for the buildings. Other green features include energy efficient construction and appliances, use of recycled materials, water saving fixtures, and on-site storm water management, all of which will offer long-term operational savings.
"Our vision for a thriving and diverse community that offers the best in family housing is on full display today, said Keith D. Kinard, Executive Director of the Newark Housing Authority. "We are grateful for the support we received from the city and the state, as well as the community and former Baxter Terrace residents, that made this development possible."
The $32 million development was undertaken as a public-private partnership between the Newark Housing Authority and its private sector development partner, Michaels Development Company, one of the nation's leading affordable and mixed-income housing developers. Interstate Realty Management Company, an affiliate of Michaels Development, will serve as the property manager, ensuring the community remains a long-term asset for the community. Supportive services for residents, including health and wellness programs, job training, and after school programs for children will be offered through IRM in partnership with local, community-based groups.
Rep. Donald M. Payne, who grew up in Newark and now serves as Congressman for New Jersey's 10th District, attended the groundbreaking for Baxter and returned to join in the grand opening celebration.
"I could not be more delighted to see how the Newark Housing Authority is changing the landscape of public housing in this city," said Payne. "NHA is leading the effort to build vibrant neighborhoods that are connected to quality schools, supportive programs, and that are fully integrated with the greater community."
Other dignitaries participating in today's ceremony included Newark Councilman Darrin Sharif, Anthony L. Marchetta, Executive Director of the New Jersey Housing & Mortgage Finance Agency, and Diane Johnson, Field Director of the Newark Office of the U.S. Department of Housing and Urban Development. Ava Goldman, President of The Michaels Development Company, spoke on behalf of The Michaels Organization. In recognition of the historic significance of the Baxter Park site to the community, special tribute was also paid to James M. Baxter, the famed Newark educator for whom the building was originally named.
Funding for Baxter Park South includes $12 million of equity raised from the sale of Low Income Housing Tax Credits and $11 million in Federal Capital Fund Recovery Grant Competition Funds (stimulus funding) awarded to the Newark Housing Authority from the U.S. Department of Housing and Urban Development. Additional financing include Newark Housing Authority Capital Funds, a permanent loan provided by the New Jersey Housing & Mortgage Finance Agency and affordable housing program funds from the Federal Home Loan Bank of New York.
About NHA
The Newark Housing Authority was founded in 1938. It is the largest public housing authority in New Jersey and the eleventh largest in the country. Its mission is to invest in families by building and maintaining affordable housing to encourage economic independence and healthy communities. NHA manages approximately 12,000 housing units throughout Newark, serving more than 30,000 residents within the City of Newark
About The Michaels Organization
The Michaels Development Company and Interstate Realty Management are part of The Michaels Organization, a family of eight integrated but independent companies dedicated to excellence in affordable, mixed-income, military, and student housing. Our mission is to create attractive residential communities for families, seniors, military service members, and students that stand the test of time and that are managed to maximize long-term value for residents as well as investors. Serving more than 100,000 residents in 360 communities across 34 states, the District of Columbia, and the U.S. Virgin Islands and with a development portfolio valued in excess of $3 billion, The Michaels Organization is a national leader in the residential real estate industry, with full service capabilities in development, property and asset management, construction, mortgage finance, and tax credit syndication. Visit http://www.TheMichaelsOrg.com for more information.