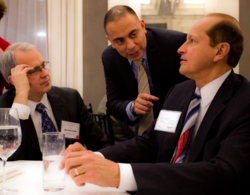 The successful CIO is a one that empowers themselves with the lessons, knowledge, and experience of a community — Nepal Patel, Principal of CIOsynergy
Hoffman Esttes, Illinois (PRWEB) February 22, 2013
CIOsynergy, a provider of thought leading conferences, announced today its highly anticipated event to take place in Toronto. The event will be held at the Trump International Hotel & Tower in Toronto on Thursday, March 21, 2013 and will feature discussions incubated under the thought-leading direction of keynote speakers.
Open to Fortune 500's and mid-market enterprise, CIOsynergy Toronto gathers senior executives from the office of the CIO including Directors, VPs, Chief Architects, CTOs and CIOs. There is no registration fee to attend but seats are limited.
"Attracting CIOs and VPs from the Fortune 500 and the mid-market enterprise, directIT events coordinated by CIOsynergy provides a wonderful opportunity for those in IT professions to engage with luminaries and thought leaders on variety of topics critical to CIOs, as well as network with their peers from around the world," says Patrick Mason, Director of Communication and Marketing at CIOsynergy.
CIOs are increasingly finding themselves in the center of strategic discussions as organizations rely more on technology for strategic differentiation. How can CIOs be successful in this increasingly dynamic environment?
Creating value, thinking out of the box, creativity, flexibility, teamwork are all required skills of CIOs today. At CIOsynergy Toronto, panel of experts will share and explore how CIOs can be successful in their role—from their relationships with their CEOs to their relationships with business leaders, to leaders of IT.
For more information about—or to participate in—CIOsynergy Toronto, please visit: http://register.CIOtoronto.com, or contact Araceli Delgado, Project Coordinator at aracelid(at)ciosynergy(dot)com or 1-847-278-2213 ext. 899.
About CIOsynergy
CIOsynergy provides a platform that brings together the thought leaders of IT through events that incorporate face-to-face meeting opportunities, panel discussions, think tanks and keynotes, and C-suite networking programs.
Previous events have attracted C-suite leaders from companies such as Wal-Mart, Salesforce, Home Depot, Bank of America, Forbes Media, Wells Fargo, Shell, Allstate, State Farm, Career Education Corp, Pepsi, Sara Lee, Kraft, BP, Loyola University, Kaiser Permanente, Mayo Clinic, and Walgreens.
The company operations nationwide and has previously partnered with sponsors such as IBM, 3com, VMware, Unisys, Hitachi, Oracle, SunGard, Dell, Google, Amazon, and HTC among 100's more. The successful CIO is a one that empowers themselves with the lessons, knowledge, and experience of a community.