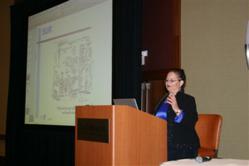 This unique symposium is the only venue where the leading researchers in SPD present their findings in one place.
Denver, Colo. (PRWEB) February 22, 2013
The Sensory Processing Disorder (SPD) Foundation's 14th International Symposium is now available as an online course through SPDUniversity.org.
Featured speakers in the symposium, including Lucy Jane Miller, Ph.D., OTR, Alice Carter, Ph.D., Shelly Lane, Ph.D., OTR and Margaret Bauman, M.D., present their latest findings and evidenced-based data in sensory processing and Sensory Processing Disorder (SPD). SPD is a neurological disorder that research has shown disrupts the daily lives of 5-10 percent of all children and can cause social isolation, low self-esteem or other social and emotional issues.
"This unique symposium is the only venue where the leading researchers in SPD present their findings in one place. This research provides evidence for clinicians to use when communicating with physicians about the validity of SPD as a real diagnosis," said Dr. Sarah A. Schoen, associate director of research at SPD Foundation.
The symposium is suited for researchers, occupational therapists, speech language pathologists, physical therapists, early intervention specialists, nurses, physicians and mental health professionals.
Highlights from the symposium include:

Compelling evidence that SPD exists as a unique clinical condition
Neurophysiological techniques used to evaluate the differences in how the brain processes sensory information in individuals with SPD, autism spectrum disorder (ASD) and typically developing children
Relationships between SPD and other Diagnostic and Statistical Manual (DSM) diagnoses, such as ASD and attention deficit hyperactivity disorder (ADHD)
Information on the Sensory Processing Scale, which assesses sensory processing across all sensory domains
Issues related to SPD in adults
To register for the 14th International Symposium and other e-Learning courses at SPD University, visit http://www.spduniversity.org. "A Sensible Approach to Sensory Processing Disorder: Overview of All Subtypes" is an introductory course designed for parents, clinicians and anyone wanting to learn more about SPD. Other courses offer practical strategies for treatment at home, school and in the clinic. The SPD Foundation is an AOTA-approved provider of continuing education credits (CEUs).
About Sensory Processing Disorder Foundation
The Sensory Processing Disorder (SPD) Foundation, a Colorado 501(c)(3), offers educational programs, conducts SPD research, and provides resources for parents worldwide. SPD University is the online educational arm of the SPD Foundation. Dr. Lucy Jane Miller, widely recognized as a leader in SPD research worldwide, founded the SPD Foundation in 1979. For more information, visit SPDNow.org or call 303-794-1182.