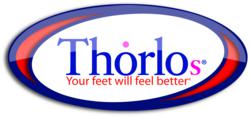 Statesville, NC (PRWEB) February 25, 2013
For the first time ever, the THORLO Company is offering one free pair of the latest addition to its line of clinically-tested padded socks, MORE Casual Comfort. The new product, provides all-day foot protection and comfort for people whose feet hurt during and/or after everyday activities, will be sold only online on the company's newly-designed website, http://www.thorlo.com.
"MORE provides men and women with 'Profound Comfort®' as a result of two unique design features," says THORLO founder and CEO Jim Throneburg. "The first is our engineered padding, which provides dense cushioned support to protect the bottom of feet that have lost fat-pad soft tissues—a process that occurs naturally with age and activity. The second is optimal sizing for the perfect fit, an essential element of foot protection. MORE comes in 13 different sizes, each matching a specific shoe size, to assure the best possible foot protection and a perfect fit. As far as we know, this is the first time in the history of sock making that such an extensive range of sizes has been offered."
Revamped Website and Documentary
The special MORE offer—one pair per household, US addresses only, with $6.60 S&H—is available now on THORLO's website, which has undergone a complete makeover to reinforce the brand's foot-protection message, make it easier than ever to navigate through all of the site's resources, including new videos; find the right foot protection product fast with an enhanced product finder; and enjoy a safe and rapid checkout.
The website also features a short preview of a new one hour documentary about THORLO that premiers February 21st, with a second primetime showing on February 23st on RLTV, available on Comcast and Time Warner Cable.
"We are excited about these new endeavors, which will propel us forward in our mission to be 'caretakers of the world's feet,'" Throneburg says. "Feet are the cornerstone of activity, function and good health—when your feet feel better, you are better able to do more of what you need to do and love to do."
About THOR•LO
North Carolina-based THOR•LO, Inc., the originator of activity-specific padded socks and the Thorlos® brand, is committed to providing consumers with foot protection and comfort. Scientific, peer-reviewed research stands behind the Thorlos promise: "Your Feet Will Feel Better or Your Money Back®." Thorlos clinically-tested padded socks are uniquely designed and engineered to help protect feet from blisters, foot pain or discomfort, pressures and moisture, enabling consumers to enjoy more active lifestyles. THOR•LO was founded by James L. Throneburg, who also originated the Integrated Fitting Solution®, a systems approach to fitting the right engineered padded sock to the right shoe to maximize both foot protection and comfort. Thorlos continue to be made in the USA. For more information about Thorlos visit http://www.thorlo.com.