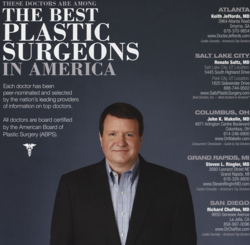 We want our patients to be comfortable and confident that they have selected the right Atlanta Plastic Surgeon for their cosmetic enhancements.
Atlanta, GA (PRWEB) February 28, 2013
Atlanta Plastic Surgeon, Dr. Keith Jeffords, has launched a new website for his Paramount Plastic Surgery Practice in Smyrna, Georgia. Dr. Jeffords developed the new website to provide current and prospective patients insight into Paramount Plastic Surgery. The website highlights Dr. Jeffords' full complement of the latest procedures including: body contouring, breast augmentation, chin enhancement, liposuction, facelifts, earlobe repair and many more. Dr. Jeffords is Board Certified by the American Board of Plastic Surgery and Paramount Plastic Surgery was recently ranked among the best Atlanta Plastic Surgery practices by Atlanta Magazine.
The new website, DoctorJeffords.com, provides patients with complete information on the services provided by Paramount Plastic Surgery and the expertise of Dr. Jeffords. The website is designed for ease of navigation by the user and contains sections dedicated to specific practice areas such as the Paramount Medical-Spa & Laser Center, which is a full service skin rejuvenation center. The Med-Spa and skin care center features chemical peels, Botox treatments, female hair removal, spider vein procedures and more. The news section covers the latest advances in Plastic Surgery and Dr. Jeffords professional accolades such as his selection by a peer review process as one of the "Best Plastic Surgeons in America" and featured in the August 2012 edition of Delta Sky Magazine.
Dr. Jeffords is a Neograft FUE (follicular unit extraction) provider and he is included in a small elite group of Board Certified Plastic Surgeons that perform hair transplants in the U.S. He co-authored a chapter on this topic for the 2012 McGraw Hill text book, Current Reconstructive Surgery. The chapter entitled "Alopecia" was written in collaboration with Drs. Davidson and Manders of the University of Pittsburgh Department of Plastic Surgery.
Dr. Jeffords commented on the new website. "I wanted my patients to get all the information they needed about the services offered at Paramount Plastic Surgery and this new website fulfills that need. All of our procedures are described on the website so patients are well informed before they come to my office for their first appointment. During the initial office visit, we can answer any questions they may have about a specific procedure that may need clarification. The bottom line is that we want our patients to be comfortable and confident that they have selected the right Atlanta Plastic Surgeon for their cosmetic enhancements. This new website really helps by giving them the information they need to make their decision."
Paramount Plastic Surgery, a premier Atlanta Plastic Surgery Practice, offers complete cosmetic enhancements including: Blepharoplasty (eyelid lift) & Brow Lifts, Brachioplasty (arm lift), Gynecomastia, Liposuction for men & women, Labiaplasty, Mastopexy (breast lift), NeoGraft Hair Transplants, Otoplasty (Ear Reshaping or Pinning), Reconstructive Plastic Surgery, Rhinoplasty (Nose Reshaping), Tummy Tuck (Abdominoplasty) and Lip Enhancements. Dr. Jeffords office hours are Mon-Fri 9am-5pm, Saturday and after hours by appointment only. Paramount Plastic Surgery Practice is located at 3964 Atlanta Road, Smyrna GA 30080, phone 678-370-9854.