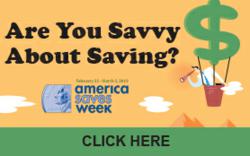 Fort Lauderdale, FL (PRWEB) February 25, 2013
Consolidated Credit is challenging consumers to live credit card free for one week during America Saves Week, February 25th to March 2nd. The organization is calling all Americans to go to their Facebook page and pledge to not use credit during the 7th annual America Saves Week.
America Saves is an initiative of the Consumer Federation of America involving non-profit, government, and corporate groups that encourages individuals and families to save money and build personal wealth.
"Saving money is crucial when creating a stable and healthy financial lifestyle," said Howard Dvorkin, CPA and founder of ConsolidatedCredit.org. "Limiting credit card usage in our slow economy is a good tactic and can increase people's savings capacity."
Dvorkin's tips for halting credit card spending:
Use cash: One of the tricks to stop using credit for a week is to rely solely on cash. Consumers can take their credit cards out of their wallets and replace them with the cash amount needed to survive for a week. This way when consumers go shopping, they don't overspend.
Hide credit cards: For some consumers it's just too hard to say bye to their plastic, even if it's only for a week. For these consumers hiding credit cards in an out-of-sight cabinet or drawer can be the solution. By keeping credit cards out of reach, consumers are more likely to control their spending habits and avoid making large purchases.
Set up automatic bill payments: Some consumers pay several bills with their credit card without realizing how much debt they are accruing. By setting automatic bill payments from their checking account, consumers can pay all their bills on time without facing interest rates or late fees.
Eat at home: Eating out is one of the most common credit card expenses among consumers. Instead of swiping their plastics in six or seven different restaurants each month, consumers can eat healthier and save money by preparing their own meals. It's estimated that a family can save up to $2,784 per year by cooking at home.
Money saving challenge: A fast way to start depending less on a credit card is trying the 52-week Money Saving Challenge. This fun strategy involves saving $1 every week and adding $1 each week for a year. In a year, over $1,300 can be saved without making huge sacrifices!
About:
Consolidated Credit is one of the nation's largest credit counseling and has helped over 5 million people with financial issues. Their mission is to assist families throughout the United States in ending financial crisis and solving money management problems through education and professional counseling.