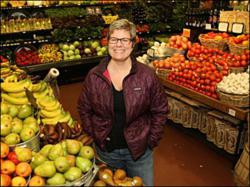 I am honored to share the experiences that have helped shape my path."
Lisa Sedlar
Portland, OR (PRWEB) February 22, 2013
Lisa Sedlar, former CEO of New Seasons Market and currently CEO of Green Zebra Grocery, will be featured as the keynote speaker at the second annual Women's Leadership Conference in Portland, OR, on March 7, 2013.
"I am honored to be invited to speak with other women leaders and share the experiences that have helped shape my path," Sedlar said. "I look forward to participating in the events of the day supporting other women leaders in business at this great event."
The daylong conference will be held at the McMenamins Kennedy School in Northeast Portland. Featured workshops focus on this years' theme: "Owning Your Authentic Voice." The workshop topics include "Trusting Your Intuition," "Untangling the Mystery of Money," "Your Personal Brand" and "Giving Feedback in Your Authentic Voice." The conference also offers networking opportunities and aims to inspire leadership success for women of all professional backgrounds.
A Woman's Way to Leadership was founded in by Dr. Pamela Jeanne, ND, Dr. Sarah Stebbins, CPC and Berry Kruijning, LLM, PHR in 2011, with the goal of enriching women's leadership through education, inspiration and self-enhancement.
For more information and to register for this event, visit the website at
http://www.awomanswaytoleadership.com. Or contact Berry Kruijning at 503-880-6640 or email berry(at)crowningcommunications(dot)com