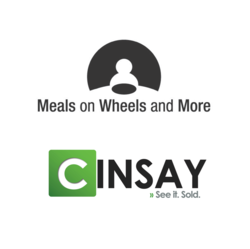 "We are so excited to be part of the world's first live streaming social e-commerce event," said Dan Pruett, President and CEO of Meals on Wheels and More.
Austin, TX (PRWEB) February 22, 2013
Cinsay and the Recording Artists Guild's 'Rags to Riches' live (R2RLive) music event during the South By Southwest Music Festival, will support several local and national charities. Meals on Wheels and More is the first Austin-based nonprofit to join the first-ever, live commerce music event, featuring A-list celebrities and top musical guests all set to perform March 16th, in downtown Austin, at Brush Square Park.
"We are so excited to be part of the world's first live streaming social e-commerce event," said Dan Pruett, President and CEO of Meals on Wheels and More. "Cinsay worked with us at no cost to launch our very own online store where we can sell Meals on Wheels and More branded merchandise. This gives us an amazing opportunity to raise both awareness and funds," Pruett adds.
Besides using the Smart Store™ platform to support Meals on Wheels and More, Cinsay has several other nonprofits benefiting from the technology. The Mary Crowley Cancer Research Center is just one organization using the technology to collect volunteer contact information and cash donations. Other charities include, the Texas Winds Music Outreach program, the Pierce College Foundation, and His Bridge Builders ministries.
"We are very excited to be working with and donating to Austin's Meals on Wheels and More. They do great things for those in need within our community and we appreciate that very much," said Christian Briggs, CEO and Founder of Cinsay. "Cinsay provides dozens of charities with technical fundraising support through our patented Smart Store™ video player that enables them to take donations, sell branded items as well as find volunteers to help them operate. We know these nonprofits have to stretch every dollar; we help them do that and find more dollars to stretch," Briggs added.
Musical talent and several Grammy Award nominees include, Eminem produced pop-hip-hop singer, Skylar Grey, new alternative group, Kitten, rock band, Neo Geo, jazz and blues hit, Larry Gee, and pop sensation, Forever The Sickest Kids (FTSK).
The party will be hosted live at Rags2RichesLive.com and will utilize Cinsay's patented Smart Store™ technology with expected live attendance of nearly 1,000 guests and hundreds of thousands of online music fans that will be able to watch live performances, purchase band's merchandise and donate to charities throughout the day as well as share the video all over the world.
Registration to attend the event and watch online is open at Rags2RichesLive.com. Follow news and updates about the event via Twitter hashtag #R2RLIVE.
WHAT: Cinsay/RAG: Rags 2 Riches Live Music Event
WHERE: Brush Square Park, 409 E. 5th Street, Austin, Texas 78701
WHEN: March 16, 2013 @ SXSW – 1:00 PM – 8:00 PM CST.
COST: Free to credentialed SXSW badge holders, invited guests and music wristband holders.
ONLINE: Rags2RichesLive.com
About Cinsay, Inc.
Cinsay has created a next generation social eCommerce, viewer interactive, video-based platform for any individual or size businesses. Cinsay's SaaS based technology enables everyone to sell products, services, capture donations, and generate leads all inside the patented Smart Store™ technology. Additional services available to individuals, SOHO's, enterprises and nonprofits, are Cinsay's complete turnkey business solution via exclusive on demand, made to order merchandise featuring hundreds of personal, brandable products like t-shirts, caps, mugs and iPhone covers available at CinsayOnDemand.com. Now, anyone can be in business within minutes with no inventory whatsoever. Merchants benefit from Cinsay's in-depth reporting tools and real-time statistical data. Cinsay's embeddable platform is compatible with web and mobile devices and is highly scalable via its enterprise-level hosting and distribution networks. Full video production is available through CinsayProductions.com. Cinsay aggregates and promotes merchant stores via its searchable consumer portal, MyCinsay.com. Notable clients include: GameFly, Neiman Marcus, Wet Seal, decompras, and California Closets. Forbes has named Cinsay as one of "America's Most Promising Companies" and by eTail Conferences as a "Rising Star" in innovation for 2012.
About Meals on Wheels and More:
Meals on Wheels and More is one of the largest meal-delivery organizations in Texas, distributing 4,000 meals and reaching 3,100 clients each business day, including 50 low-income students through our Meals for Kids program. Part of the Austin community since 1972, MOWAM believes in holistic case management and also offers the following services to our clients through our many programs: minor home repairs; phone friends to combat loneliness; pet food and pet health care; grocery shopping assistance; a monthly supply of shelf-stable groceries; extra, daily, shelf-stable meals for the nutritionally at-risk; problem solving therapies; and rural meal delivery. For more information, please visit http://www.mealsonwheelsandmore.org.