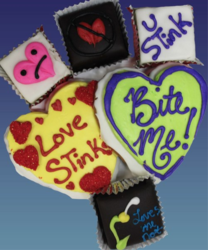 We wanted customers, in relationships or not, to know that just because they've had one bad Valentine's Day experience didn't mean that we weren't going to try to make the day better for them moving forward!
Houston, TX (PRWEB) February 21, 2013
Three Brothers Bakery, Houston's fifth generation baked goods staple, offered its customers a few different options to celebrate Valentine's Day this month. While the bakery has helped bring romance to couples for over 60 years through its sweet treats, February 14th 2013 wasn't only for lovers this year.
Through it's "Broken Hearts Club" Facebook contest, Three Brothers Bakery asked fans to share their worst or most dreaded memories associated with the holiday of love on the social media site for the chance to join the bakery's "Broken Hearts Club" and win an Anti-Valentine's basket filled to the brim with prizes. Fans were encouraged to share serious or silly memories and stories on the bakery's Facebook wall from February 1 through February 11, with one winner chosen by bakery owners on February 12th.
The Houston bakery received several dozen responses from both local and national fans. The winner of the prize pack for having the most touching story, a 65-year-old Houston native, was broken up with after finding out about her Cancer diagnosis. She was thrilled to have been chosen and enjoyed her goodie bag with friends on Valentine's Day.
Three Brothers created Anti-Valentine's Day conversation heart cookies and petit fours throughout the ten-day contest period in order to generate entries and show off their new and different desserts. One dozen of each of these, in addition to a Valentine's cupcake and cake balls were included in the Anti-Valentine's package. The final prize also included sparkling cider and a gift certificate for a hair "blow out" from the local, The Do Bar.
"While we love helping our customers celebrate Valentine's Day and any loving moments with our desserts, we wanted to appeal to our customers who would be dreading the holiday as well," Bobby Jucker, co-owner and fifth generation baker, said. "We wanted customers, in relationships or not, to know that just because they've had one bad Valentine's Day experience didn't mean that we weren't going to try to make the day better for them moving forward!"
Fortunately, even the losers in this promotion were awarded. Each non-winning entrant was notified of his or her consolation prize, a box that he or she could fill with whatever treats would fit inside of it. Entrants were encouraged to visit either of the Three Brothers locations in Houston to fill their boxes to the rim with goodies of their choosing.
February was an eventful month for the bakery not only because of their Valentine's Day promotion. The bakery also helped customers celebrate Mardi Gras through their king cake sales and looks forward to helping customers celebrate the Jewish holiday Purim on February 23 and 24, with the Hamentaschen they sell all year. Finally, Three Brothers Bakery recently celebrated their first full year in business at their second location. The Kingsride location invited customers and fans in the surrounding area to join them in celebrating with free birthday cake and pizza from a neighboring new business. During their birthday celebration, the bakery also launched their birthday club, in which customers will receive terrific offers during their birthday month.
For more information regarding Three Brothers Bakery or their "Broken Hearts Club" promotion, and the delicious treats the winner took home, please contact Jenny Selber at 713-416-7280 or jenny(at)integratepr(dot)com
About Three Brothers Bakery
The traditions of Three Brothers Bakery began in Chrzanow, Poland circa 1825, and continued to thrive despite the family's concentration camp imprisonment during the Holocaust. Their miraculous liberation, and subsequent move to Houston, brought Eastern European scratch baking traditions to 4036 S. Braeswood Blvd and 12393 Kingsride Lane, where the owners are now proud to call themselves "memory makers who just happen to be bakers." Perfecting the process for almost 200 years, each day the fifth generation bakers produce mostly dairy-free breads and pastries, cookies, a full line of specialty dessert cakes and pies, as well as custom birthday, special occasion, wedding and groom's cakes using only the highest quality ingredients.
The Three Brothers Bakery pecan pie was named "the best mail order pecan pie America has to offer" by Country Living magazine, and most recently, bakery owner, Bobby Jucker competed in the popular 'Food Network Challenge' and has been seen on Food Network's Outrageous Food. Three Brothers Bakery is a certified Woman-Owned Business through Women's Business Enterprise National Council, and a State of Texas Historically Underutilized Business.
Follow Three Brothers Bakery on Facebook and Twitter for Houston area news, information and events.
###