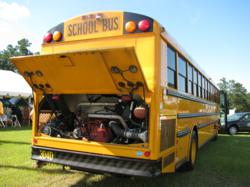 Chattanooga, TN (PRWEB) February 25, 2013
Green is becoming the new "green" in business transportation, as municipal and commercial transportation leaders are discovering that propane, natural gas, biofuels and electric vehicles (EV) can have an immediate savings impact on their bottom line. The upcoming Tennessee Alternative Fuel Vehicle Roadshow, aims to spread this message- to the public and business fleet communities, with a series of educational events to be held March 12-26th in Kingsport, Knoxville, Chattanooga, Memphis and Nashville.
In a one-of-a-kind event, vehicles ranging from the smallest EV to the largest trucks, powered by various alternative fuels, will be on display together in each city, combined with a 2-hour seminar featuring about 10 speakers. A panel of experts will speak about the economic viability, safety and infrastructure behind each fuel type, to demonstrate how businesses and governments can transition to a more price-stable, lower maintenance, operating fuel for their vehicles.
Tennessee Tour Stops:
Tuesday, March 12th 1-4 – Kingsport-Tennessee Environmental Conference- Meadowview Conference Center
Wednesday, March 13th 20th 9a-12n –Knoxville- Smokies Stadium
Thursday, March 14th 9a-12n – Chattanooga – DoubleTree by HIlton-
Monday, March 25 – Nashville Ed Jones Auditorium- Ellington Agricultural Center
Wednesday, March 26, - Memphis - Agricenter
The tour is being presented with Clean Cities Coalitions in the southeast and is free to attend, but registration is necessary. The Public is welcome. East Tennessee Clean Fuels, Middle Tennessee Clean Fuels and the new West Tennessee Clean Fuels will be on site, along with speakers from the Tennessee Department of Transportation and the Tennessee State Energy Office.
Originated in Georgia in 2011, by Georgia Public Service Commission Chairman, Tim Echols. The tour has educated fleet managers and municipal leaders in 18 cities throughout the southeast. Tour Director, Joy Kramer adds, "We all talk about becoming more "energy independent" but business and government leaders want to know how to get there from a local perspective. Our tour provides the basic education to help our audiences determine which fuel might be the best solution in their unique case."
Highlights of the Tennessee Tour include presentations by EFACEC-DC Fast Charging for Electric Vehicles, Nissan of North America, Roush Clean Tech and Alliance Auto Gas for propane and Westport, MLGW, and Gibson County Utility District representing natural gas.
The Tour is produced by AdVentures, a private company, producing non-profit and educational events with a social purpose. The mission of the Alternative Fueled Vehicle Roadshow is to serve the alternative energy economy, by advancing ideas about propane, natural gas, biofuels and Electric Vehicles which drive the transportation industry forward.
For more information on registration, sponsorships and agenda topics, visit http://www.afvroadshow.com or call 678-810-0929.