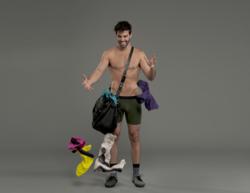 MeUndies is expected to boost its sales growth over 40% this month by going international.
Los Angeles, CA (PRWEB) February 22, 2013
MeUndies.com has launched its brand new website that will feature new functionality, a more attractive user interface, international shipping, and new products including socks, t-shirts, and hats.
With help from angel investors and VCs, MeUndies will close its Series A financing round in the next few weeks. The raise is going toward expanding its product line, and launching the MeUndies mobile app later this year.
MeUndies is expected to boost its sales growth over 40% this month by going international. "High demand in countries like Australia, Germany, The U.K., and Japan" is the cause for this expansion, said CEO and founder Jonathan Shokrian.
This growth has MeUndies taking on collaborations with famed street artist Curtis Kulig ("Love Me") who has collaborated and worked with big name brands such as Vans, Nike, Urban Outfitters, Obey, HBO, and Levis; Tom Slaughter (through Cavern Home), legendary NYC print maker with works of art in MoMA and the Whitney Museum of American Art; and Connor Ash, founder of Conart and brother of Guns N' Roses guitarist Slash, with more artists to come.
MeUndies has expanded its Twitter reach to over 106k followers, Facebook likes to almost 90k, and even created one of top branded "Harlem Shake" Youtube videos with over 30k views. This massive social following has translated well into sales for MeUndies who now have over 100k members.
About MeUndies:
MeUndies delivers premium men's and women's basic apparel at a fraction of the price of the large designer brands. MeUndies started out of a hatred for conventional underwear shopping which was expensive, tedious, and undesirable, and a need for a convenient way to buy basics. Prices range between $8 for socks, $16 for underwear, and $20 for t-shirts and free shipping within the U.S. and Canada.