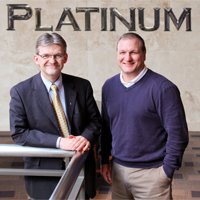 Dubuque, Iowa (PRWEB) February 26, 2013
Platinum Supplemental Insurance has hired two new executives as part of the company's proactive planning strategy for continued growth and expansion in 2013.
Joining Platinum are Chief Operating Officer of Administration, Michael Berg, and Chief Operating Officer of Third Party Administration, James Lange, both of Dubuque.
Platinum has experienced significant growth in the last several years. The company currently employs nearly 80 people at its corporate headquarters in Dubuque, Iowa, and has 200 sales representatives selling its supplemental insurance policies in 15 states.
According to Wayne Briggs, President and CEO of Platinum, the new management team is tasked with streamlining agency infrastructure in order to help position the agency for growth in the coming years.
"Mike and Jim are great assets to our organization. Their knowledge and expertise will help position Platinum as a world-class marketer of supplemental insurance policies," said Briggs.
Berg comes to Platinum with 26 years of experience as an administrator in the healthcare industry. He received his Masters of Business Administration degree from the University of South Dakota. His role at Platinum will be to provide leadership and direction in an administrative capacity overseeing the travel and events, sales support, media, human resources, compliance and IT departments.
Lange joins Platinum with over two decades of high level management experience in call center operations, client services, information technology and infrastructure management. He holds a Masters of Business Administration degree from the University of Dubuque. His role at Platinum will be to manage and supervise all aspects of the customer service department and the third party administration functions as it pertains to the call center and client services.
About Platinum:
Platinum Supplemental Insurance is one of the most innovative marketers of exclusive supplemental insurance products in the Midwest, offering custom designed products that include Cancer, Heart Attack & Stroke, both Long and Short-Term Care and Accident & Disability insurance solutions. In addition, Platinum has also made their Cancer, Heart Attack and Stroke insurance product available to companies and businesses of all sizes for employers to use as an enhancement and addition to their employees' current benefit package.
Headquartered in Dubuque, Iowa, Platinum's growth is a direct reflection of its commitment to exceed customer expectations with excellent service and affordable products that are underwritten by highly rated companies. Platinum has proudly held an A+ rating from the Better Business Bureau since 2004 for meeting the bureau's accreditation standards year after year.
With a solid fundamental mission to provide the best products and services to their customers, Platinum also invokes a commitment to their representatives and employees with outstanding opportunities for personal, professional and financial growth.
For more information on Platinum Supplemental Insurance, please visit http://www.pltnm.com.