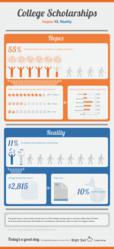 Five in ten parents believe their kid will earn a college scholarship. Four will be disappointed.
Springfield, Ill. (PRWEB) February 28, 2013
About five in ten Illinois parents believe their children will earn some type of scholarship to help pay for college. Four of them will be disappointed.
According to a survey by Bright Start College Savings, 55 percent of Illinois parents believe their children will be eligible for some type of academic, sports or other scholarship. But just over 10 percent of college students receive such merit-based financial aid that does not need to be repaid, according to FinAid.org, an organization that tracks student financial aid information.
That will spell trouble for some parents who project scholarships as covering up to 75 percent of post-secondary education tuition. These families may be faced with having to rely heavily on student loans, which can take years to pay off.
"Parents hoping to help send their children to college need to be saving money regardless of their confidence in getting scholarship money," says Bridget Byron, Executive Director of Finance for the Illinois State Treasurer's Office. "Even with scholarship eligibility, savings can help reduce the need for loans to cover expenses beyond tuition, like room, board and books."
Knowing the realities of scholarship availability and size, though, should spur parents to action. Of Illinois parents who project their children earning a scholarship, nearly one-third (32 percent) believe it will cover at least half of future tuition costs. Another quarter (26 percent) think a scholarship will cover between 25 percent and 29 percent of tuition.
In fact, the most recent FinAid.org numbers put the average merit scholarship for four-year undergraduate students at just over $2,800. Given the average annual total cost at four-year institutions of $27,000, according to the U.S. Department of Education, even the one in ten students who earn merit scholarships will cover just 10 percent of their education. How will they and their parents pay for the remaining 90 percent?
"First, they should dedicate themselves to college savings now because every dollar saved is a dollar less your child will need in loans," says Byron. "And one of the best financial vehicles for doing so is a 529 college savings plan for its multiple tax advantages."
A 529 plan, such as the Illinois Bright Start College Savings plan, allows money to grow tax-free and to be spent on college expenses without incurring taxes. While that alone is a powerful incentive, Illinois residents might also get a state tax deduction as well, saving money that can be used to further fund the account.
Besides serving as a core savings vehicles, tax-advantaged 529 college accounts allow family and friends to contribute, enable the child to save part of their allowance, and can be linked to direct deposit so a small portion of parents' paychecks can go directly into the account.
Then, when it's time for college, parents can make tax-free withdrawals from the account to pay for qualified expenses at most vocational, community, state or even Ivy League schools, whether they are in-state, out-of-state and some schools abroad.
Bright Start College Savings is a Section 529 education savings program created and administered by the State of Illinois. It allows account holders to save for the cost of education in a Bright Start College Savings account without paying taxes on earnings. Learn more and enroll at http://www.brightstartsavings.com.
Disclosure
This material is provided for general and educational purposes only, and is not intended to provide legal, tax or investment advice, or for use to avoid penalties that may be imposed under U.S. federal tax laws. Contact your attorney or other advisor regarding your specific legal, investment or tax situation.
The Bright Start® College Savings Program is administered by the Illinois State Treasurer's Office and distributed by OppenheimerFunds Distributor, Inc. OFI Private Investments Inc., a subsidiary of OppenheimerFunds, Inc., is the program manager of the Plan. Some states offer favorable tax treatment to their residents only if they invest in the state's own plan. Investors should consider before investing whether their or their designated beneficiary's home state offers any state tax or other benefits that are only available for investments in such state's qualified tuition program and should consult their tax advisor. These securities are neither FDIC insured nor guaranteed and may lose value.
Before investing in the Plan, investors should carefully consider the investment objectives, risks, charges and expenses associated with municipal fund securities. The Program Disclosure Statement and Participation Agreement contain this and other information about the Plan, and may be obtained by visiting brightstartsavings.com or by calling 1.877.43.BRIGHT (1.877.432.7444). Investors should read these documents carefully before investing.