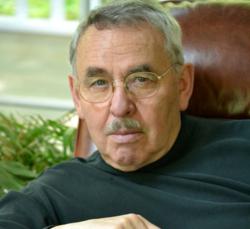 Alexandria, Va. (PRWEB) February 22, 2013
Retired CIA officer and acclaimed author Tony Mendez will deliver the keynote address for the CSO Roundtable 6th Annual Spring Conference, Problem Solved, Lessons Learned, Monday, March 4th, at the University Club in Chicago, Ill. This two-day conference event will bring senior security executives from the world's largest organizations together to share the lessons they've learned from solving their biggest challenges. The CSO Roundtable of ASIS International is a private group designed to meet the needs of senior security professionals from the largest and most influential organizations in the world.
For 25 years Tony Mendez worked under cover, participating in some of the most important operations of the Cold War. To his friends he was a quiet bureaucrat working for the U.S. military. To the CIA he was their disguise master. He moved into the CIA's executive rank over the course of his career. Mendez and his subordinates were responsible for changing the identity and appearance of thousands of clandestine operatives, allowing them to move securely around the world.
In January 1980 he led the rescue of six U.S. diplomats from Iran during the hostage crisis. This rescue operation, the subject of a book by Tony and the new award-winning film Argo by Ben Affleck, involved creating a fake Hollywood film production company, complete with personnel, scripts, publicity and real estate in LA. He was awarded the Intelligence Star for Valor for engineering and conducting this operation.
Attendees will receive a signed copy of ARGO. Mendez will also pose for photos with attendees.
Conference attendees are invited to join a behind-the-scenes tour of the Art Institute of Chicago, which holds some 300,000 works of art and welcomes 1.5 million visitors each year. The tour, walking distance from the conference site, will be led by the Institute's Associate Vice President, Protection Services, Michelle Lehrman Jennes. The tour is scheduled for 12:30-13:30 on Tuesday, March 5th.
This conference event is open only to CSO Roundtable members and those eligible to join. For membership eligibility and complete program details, go online. To register, contact Manuela Costa by email at manuela.costa@asisonline.org, or call +1.703.518.1509. Media may attend the keynote. Contact Leigh A. McGuire to register and obtain credentials.
# # #
About the CSO Roundtable:
The CSO Roundtable became its own membership organization in 2008 to gain recognition for and enhance the standing of the CSO position; to assist CSOs in job performance, leadership and professional development; and to develop the next generation of corporate CSOs. It fulfills this mission by creating networking opportunities, holding high-level conferences, and offering a password-protected Web site that delivers a discussion blog, thousands of documents including a dynamic inventory of policies and procedures, and a number of free resources and tools provided by partners. The site also carries CSO-relevant news and a private-messaging function. For more information, visit http://www.csoroundtable.org
About ASIS International:
ASIS International is the preeminent organization for security professionals, with 38,000 members worldwide. Founded in 1955, ASIS is dedicated to increasing the effectiveness and productivity of security professionals by developing educational programs and materials that address broad security interests, such as the ASIS Annual Seminar and Exhibits, as well as specific security topics. ASIS also advocates the role and value of the security management profession to business, the media, government entities and the public. By providing members and the security community with access to a full range of programs and services, and by publishing the industry's No. 1 magazine—Security Management—ASIS leads the way for advanced and improved security performance.