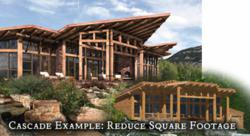 Meridian, ID (PRWEB) February 25, 2013
PrecisionCraft Log and Timber Homes' floor plan gallery has always been a popular source of inspiration for clients looking for the perfect design concept to fit their lifestyle. Now it also offers a glimpse at a variety of past client's modified projects. PrecisionCraft recently launched the second part of a four-part series featuring new examples of recent home modifications.
In the first installment, PrecisionCraft explored the option of altering square footage. This area of customization featured two new home projects that reduced the square footage of an original concept and two examples that enlarged theirs.
This month's focus featured four examples of homes where the product type was altered. These examples showed how clients could modify an existing design to fit their own product preference. Some clients may prefer handcrafted logs, while others like timber framing. These examples show how it is possible for them to make it happen.
With two more installments left in this customizations series, PrecisionCraft invites clients to take a look, if they haven't already, at the first two newsletters on their website. There is also opportunity to sign up and receive the next two installments by email.
For more information on customization and PrecisionCraft's design process, visit: http://www.precisioncraft.com/DesignBuild/DesignProcess.html
ABOUT PRECISIONCRAFT: PrecisionCraft is a designer and producer of custom mountain style homes which contain some combination of logs and timbers. The majority of PrecisionCraft's log homes and timber frame homes showcase large diameter logs and heavy timbers and range in size from about 1,500 to over 10,000 sq.ft.