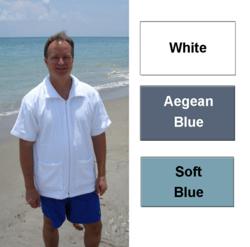 Family owned and operated, just like the old days
Hobe Sound, Florida (PRWEB) February 23, 2013
The Terry Beach Jackets from Wittmann Textiles Company add flair to your man's cruise, spa, pool, or travel cover-up wardrobe. The 50s retro look of Terry Beach Jackets, made famous by surfers and landlubbers alike, are now back in stock and ready to ship. With 6 sizes and either a zipper or button style, it is easy to find the perfect fit for a gift or trip. The thirsty 100% cotton terry offers comfort not achieved by waffle robes. It works perfect for boating, scuba, surfing, lounging or just having fun. Many of their customers have told them that there is nothing like all-cotton for wicking away the moisture.
Testimonial: "Family owned and operated, just like the old days! Friendly and helpful - can't say enough good things about their product and their overall approach to great customer service! Totally pleased! Have already shopped with them again!" - D. Moore NJ
A national mail order and internet company in Hobe Sound, Florida, Wittmann Textiles Company is family-owned and operated, continuously for 58 years. Look for their ads in Smithsonian, Elks, Sierra, National Review, and others. Wittmann Textiles Company offers great personal customer service and all products are backed by a 100% satisfaction, money-back guarantee. For more information, please visit http://www.wittmanntextiles.com.