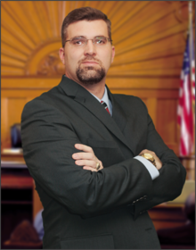 Dallas, Texas (PRWEB) February 22, 2013
George Jerrell Wise, Dallas personal injury lawyer and attorney at Grossman Law Offices, P.C., has been accepted and certified as a lifetime member of the Million Dollar Advocates Forum, and the Multi-Million Dollar Advocates Forum.
Founded in 1993, the Million Dollar Advocates Forum serves to recognize excellence in advocacy. Only attorneys who have recovered over $2,000,000.00 in a single case (be it through a verdict, award or settlement) are invited to join. Fewer than 1% of attorneys are members of this exclusive club.
Wise is a graduate of the University of Houston Law Center, and joined Grossman Law Offices in 2011. Before attending law school, Mr. Wise served as a police officer for the Mesquite Police Department as well as the Harris County Constable's Office. Since joining Grossman Law Offices, Mr. Wise has achieved numerous successful results for his clients. His areas of practice include car & truck accidents, drunk driver accidents, work accidents, product liability, premises liability and medical malpractice.
Grossman Law Offices is a personal injury law firm with its principal offices located in Dallas, Texas. Founded in 1990 by Dallas personal injury lawyer E. Michael Grossman, the firm represents victims of all types of personal injuries, as well as the families of those wrongfully killed. For more than two decades, the team of attorneys and staff have made a profound impact on the lives of thousands of personal injury and wrongful death clients. Grossman Law Offices is located at: 12240 Inwood Rd #500, Dallas, TX 75244, 1-855-326-0000, or by visiting http://www.injuryrelief.com/.