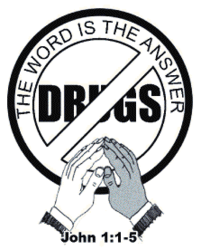 In the United States alone, DRUG OVERDOSE rates have more than tripled since 1990!
Clearwater, FL (PRWEB) February 27, 2013
In the USA, the courts have been in the process of removing the Bible (1963 - Abington Township School District v. Schempp), prayer (1962 - Engel v. Vitale) and the Ten Commandments (1980 - Stone v. Graham ) from our schools and the public arena. The vast majority of our young people no longer have a moral compass. Broken homes, the corruption of our culture and the secularization of society have led to an entire generation of young people feeling lonely and hopeless. In many cases, they are seeking relief using dangerous and potentially deadly chemicals. Not only are they abusing prescribed medications, smoking herbal marijuana alternatives, injecting and ingesting the synthetic bath salts drugs, teenagers are even getting drunk by using hand sanitizers. http://www.drugabuse.gov/drugs-abuse
Not only is substance abuse America's number one health problem, the devastation of alcoholism and other drug addiction has impacted families and communities worldwide. Substance abuse has been directly linked to violence and sexual immorality and is a major source of income for organized crime and terrorist activities.
Since April 7th, 1991, "Just Pray NO!" has united millions of Christians from 150 nations and territories around the world in intercessory prayer on behalf of the addicted and their families. We are not only praying for the release of those bound by substance abuse but also for people to be delivered from pornography, gambling, obesity and smoking. We are seeking individuals and groups which are willing to join with multitudes of other committed Christians from around the world in prayer and fasting during weekend of April 6 - 7, 2013.
If you believe that God is calling you to intercede for the addicted please contact us. To find help for addiction through prayer and Christian ministries log on to our web site: http://justprayno.org. To learn how groups can participate in our annual prayer event, click on "Information on the Annual Worldwide Weekend of Prayer" or email: justprayno(at)aol(dot)com.
View our "Pray No to Drug Overdose Video" and share this link with your friends.
For a personal interview with "Just Pray NO!" Founder and Author Steven L. Sherman, in the U.S.A. call: (727) 647-6467 or email: justprayno(at)aol(dot)com.