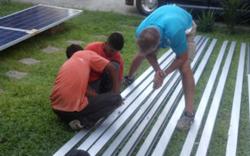 local knowledge, government rebates & our expertise makes this endeavor very promising
Murrieta, CA (PRWEB) February 22, 2013
Having spent several months studying the Filipino market for feasibility, founders of Ambassador Energy, Steve Fulgham and Kelly Smith, visited Manila to further solidify their decision to enter the market as a solar integrator.
"The market is very young," said Kelly Smith, president of Ambassador Energy. "It has always been a dream of ours to be one of the first solar companies in a brand new market. We have now identified the viability, and our strategic partners there have made it possible."
The partners, who formed a company to become Ambassador Energy's first international agency, include a construction firm, a housing developer, and an importer. "All of the partners are all Filipino business owners with many important contacts," said Ambassador Energy CEO, Steve Fulgham. "It would be difficult to enter this market without them. They know how the systems work, who the key players are, and how to navigate the diverse landscape of logistics and policy. The marriage of their local knowledge, new government rebates and our solar expertise makes this endeavor very promising."
Included in the feasibility study was a residential solar system which the newly-developed team constructed on one of the partner's home this month. "The tough part was sizing and designing a system from the states, not seeing the site first-hand ahead of time," Fulgham added. "We ended up having to improvise a lot, and even moved the system from one roof to another. Once we got there, we saw some issues with our assumptions and chose to put the system on the roof of the property's outdoor living area, requiring a change in hardware and design. The good news is the system works. It was a huge learning experience for the local team, as they now understand how important the front-end of the job is. System design and shipping the right parts are critical."
While the Filipino team moves forward to uncover installation opportunities on the islands, the U.S. Ambassador Energy team will implement a formal solar training program for them via AE's education arm, Ambassador Energy College. The training agenda includes classroom training at the AE training facility in Murrieta, CA, on-site training in the Philippines and brush-up courses through AE's online solar courses.
About Ambassador Energy
Ambassador Energy [AE] has a three-pronged business model, including Ambassador Energy College Solar Training, the Ambassador Energy Agency Program and Ambassador Energy, an EPC contractor. On staff are NABCEP Certified PV Installers, NABCEP Certified PV Technical Sales professionals [Fulgham/Kelso] and multiple NABCEP EL graduates. AE Agencies are nationwide. Ambassador Energy EPC installs PV systems throughout California.