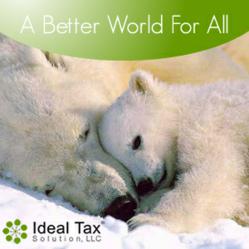 Ideal Tax Solution is one company keeping a watchful eye on IRS efforts to curb this new criminal phenomenon.
Costa Mesa, CA (PRWEB) February 22, 2013
Ideal Tax Solution, LLC is closely watching ongoing developments surrounding the significant growth of tax fraud, which has doubled in scope each year for the past several years. NPR has reported fraudulent tax refunds are being generated by criminals who use stolen names and Social Security numbers to file false tax returns using fake withholding and wage information. For victims, who span many demographic groups, tax fraud translates to aggravation and delays in receiving their rightful refund checks.
"Our cases have increased by about 650 percent since 2008," according Nina Olson, a National Taxpayer Advocate who acts as kind of an internal watchdog at the IRS. This kind of information provides tax help companies like Ideal Tax Solution a good knowledge base for better serving their clients with an all-encompassing approach to financial security.
"It catches on like wildfire and spreads like a virus," adds Wifredo Ferrer, U.S. Attorney for the Southern District of Florida. "I'm seeing from a lot of local police departments in South Florida that that the violence in their communities is being substituted for stolen identity tax refund fraud," he says.
Ferrer calls this kind of crime an epidemic and explained how a Social Security number attached to a name can sell on the street for as much as $1,000.00. Tax fraud scammers assume they can get much more than that from a fraudulent refund. Accurate and early tax return preparation is one step Ideal Tax Solution encourages all its clients to take as a preventive measure against tax refund fraud.
The perpetrators come from all walks of life, including white-collar professionals, hospital workers, former gang members and even former Marines. The IRS has stopped 5 million attempts to get fraudulent tax refunds, saving taxpayers $20 billion. It is using more aggressive screening technology to filter out scammers. Ideal Tax Solution is one company keeping a watchful eye on IRS efforts to curb this new criminal phenomenon.
"We've at least doubled the number of filters that we have. The filters work very well," says Steve Miller, the IRS acting commissioner. He declined to elaborate for security reasons.
Ideal Tax Solution constantly scans the IRS radar for any changes to its tax regulations which could impact taxpayers. Providing effective and efficient tax debt resolution requires the experience of dedicated tax help specialists who have a comprehensive understanding of the tax code, as well as current IRS trends and procedures.
For U.S. taxpayers interested in finding out more about Ideal Tax Solution and their full range of in-depth and personalized tax preparation services, or for any tax help related issue, visit them online at http://www.IdealTaxSolution.com. You can also reach them by phone by dialing 888.393.5154. Good tax tips and additional information can be found on their Facebook page and by following them on Twitter.
About Ideal Tax Solution, LLC – Located in Costa Mesa, California, the company provides a full range of tax preparation and resolution services as well as reassurance to taxpayers nationwide. With more than 55 years of combined experience providing American taxpayers with federal and state income tax solutions, Ideal Tax Solution offers an experienced staff which includes Enrolled Agents, CPAs and Senior Tax Consultants who stand at the ready to help with any tax issues.