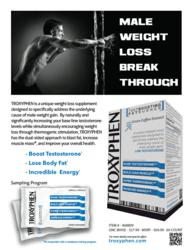 "Troxyphen is a natural testosterone booster for men that will help them achieve weight loss and increase overall muscle mass. We are thrilled to introduce Troxyphen exclusively at GNC", Michael Gardineer, CEO of truDerma
Las Vegas, Nevada (PRWEB) February 23, 2013
Troxyphen the first product to be launched under truDERMA's new pūrFORMANCE line for men is available now exclusively at GNC stores nationwide, http://www.gnc.com.
Troxyphen is a unique weight loss supplement designed to specifically address the underlying cause of male weight gain. Troxyphen naturally and significantly increases your base line testosterone levels while simultaneously encouraging weight loss through thermogenic stimulation. Troxyphen has a dual pronged approach to blast fat and increase muscle mass.
"All men will experience a decrease in their testosterone levels beginning as early as age 30. This decrease can result in weight gain and make losing weight very challenging", said Michael Gardineer, CEO of truDERMA. "Troxyphen is a natural testosterone booster for men that will help them achieve weight loss and increase overall muscle mass. We are thrilled to introduce Troxyphen exclusively at GNC. We are confident that men will appreciate that we are focusing on their needs in treating the decrease of testosterone and providing a product that addresses those needs".
Troxyphen is available at a GNC store near you or online at http://www.gnc.com for $69.99. To get your risk free bottle of Troxyphen please visit your local GNC for details.
About truDERMA
Based in Las Vegas, Nev., truDERMA (http://www.truderma.com) is a company focused on solving specific problems. The company researches the best formulations, ingredients, trends and suppliers to help customers reach their personal goals. In particular, the company helps men and women reach their weight loss goals. The company also makes Mangodrin, Mangodrin SF, DermaSLIM, UTRIM, and Adrenal Support. The management team and staff of truDERMA are passionate about healthy living and helping others achieve life-changing goals. The company stands by its products and provides a 100 percent money-back guarantee for product satisfaction to consumers.
EDITOR'S NOTE: To speak with truDERMA's CEO, Michael Gardineer, or for more information about Troxyphen, please contact L. Consoli at 702.321.1624 or pr(at)truderma(dot)com.