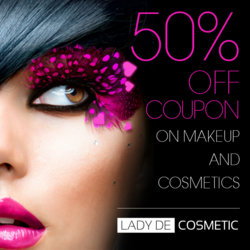 Shop for affordable make-up and cosmetics online at www.LadydeCosmetic.com
Los Angeles, California (PRWEB) February 22, 2013
If you are a frequent buyer of cosmetics and beauty supplies, you might get the feeling that prices on these products are going up at an alarming rate. Are the big-name cosmetics brands forcing up prices artificially? One way to fight back is to buy from Lady de Cosmetic online. Lady de Cosmetic, importers of the best affordable eye, face and lip makeup and cosmetics on the market, is cutting their already-low prices still further for their ever-growing fan base on Facebook.
They carry endless color combinations, makeup kits, cosmetic cases, and makeup for everyday and special occasions, including eyeshadow palettes, nail polishes, face powders, fragrances and lip glosses for every skin type.
For a limited time only, Lady de Cosmetic is offering a Half Off Coupon on all regular price items to their Facebook fans. "Like" their Facebook Fan Page (https://www.facebook.com/LADYDECOSMETIC) and get 50% off on your next purchase at http://www.ladydecosmetic.com.
All you need to do to take advantage of this offer is to go to the Lady de Facebook page, click "like," then click "Get a Coupon." That will take you to the official Facebook offer page. If you already liked the page, you will get a redemption code that you can use in the checkout process the next time you make a purchase from Lady de Cosmetic Online Store.
"Our following on Facebook is growing by leaps and bounds! We are quickly being recognized as the low price leader for all kinds of cosmetics products," says Daniel D., the company's general manager. "People ask us how we can offer these incredible prices. For us, it's actually not that hard, as we have many long-established contacts with manufacturers of quality cosmetics abroad, and we can import huge consignments of these products at rock bottom prices. This gives our customers the same huge buying power that we have. We expect to add up to 500 more popular makeup and cosmetics products within the next few months. We look forward to see all our fans and customers happy, excited and beautiful."
News provided by: TRIXMEDIA Online Marketing Team