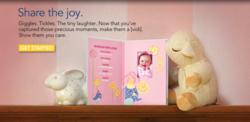 "Wow!" - I never fail to get that reaction every time I put one of our new videobooks into the hands of someone I meet.
Los Angeles, CA (PRWEB) February 25, 2013
A new gift product is available, which allows everyone to share their favorite videos the same way they share their favorite photographs – in a book. Offering a brand new product category –video books and video trophies - MyVidiGifts.com allows people to choose from a variety of casebound books and sports trophies, preserving their video memories as keepsakes or gifts for their children, family and friends.
Tim Clegg, an inventor and product developer for over 20 years, has grown two successful B2B businesses built around specialty technologies, such as audio, LEDs, paper engineering, and specialty materials. He then invented and patented Video in Print, a technology that allows Fortune 1000 companies to include live video in their corporate communications. Tim always felt that there was also great potential for a consumer product based upon the Video in Print technology.
Tim was able to realize his dream of offering this consumer product when he met Barry Silver, a Hollywood film and television editor. Together, they came up with MyVidiGifts.com, a web site that makes the new product available for families everywhere. But instead of only being available in a corporate-style book, the videobooks are now available in a wide assortment of gift-themed book covers. Birthday, wedding, Christmas, and holiday themes are some of the most popular, especially as personalized gift ideas for kids, parents & grandparents.
Videos can also be showcased within sports trophies, making a sports video trophy in the shape of a basketball, football, soccer ball, or baseball, which are also available from MyVidiGifts.com. This new gift idea has been particularly popular with parents making personalized video trophies by embedding videos of the shining sports moments of their children.
The new products have been named [vidi] books and [vidi] trophies. The full selection of book covers and trophies can be viewed and ordered at MyVidiGifts.com, the new website which has just been launched to promote the product. Prices range from $39.95 to $59.95. Fans can also connect with the company through Facebook, Twitter, and Pinterest, as well as sign up for a newsletter with the latest news and products.
Whether you are looking for the perfect gift for your son or daughter, or for another family member, there is no better gift than a treasured moment in time. Go ahead and surprise them with a [vidi]!
About MyVidiGifts.com:
MyVidiGifts.com, the new way to share favorite digital moments with family and friends, is an innovative website offering personalized gift ideas for kids and adults by allowing them to share and gift videos through videobooks and personalized video trophies which range from $39.95 to $59.95. The California-based brand was formed by a Hollywood film and television editor, Barry Silver, and the founder and owner of Americhip, Tim Clegg, an industry leader in corporate communication products.
Americhip Inc. is the global leader in the design, development and manufacture of Multisensory® advertising and marketing technologies to the world's top advertising agencies and Fortune 1000 companies. Since its founding in 2001, the company, with offices worldwide in 20 cities and 6 continents, has become the partner-of-choice to global businesses wanting to find new and innovative ways to intimately connect with their customer base.
###