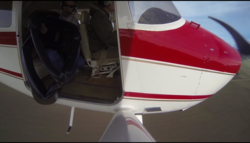 Not only do body kits get jumped on, bashed into curbs, and run over by a truck and trailer, but one unlucky front bumper even gets dropped out of an airplane
Morgan Hill, CA (PRWEB) February 21, 2013
Andy's Auto Sport has taken durability testing to the next level with its latest Andy's Auto Sport TV feature video, "Fiberglass vs Urethane Body Kits." Not only do body kits get jumped on, bashed into curbs, and run over by a truck and trailer, but one unlucky front bumper even gets dropped out of an airplane to prove once and for all whether polyurethane automotive body parts really are indestructible.
Weeks of preparation took place in order to secure a safe location for the high-altitude drop, which took place in a remote valley in central California, not too far from Andy's Auto Sport's Morgan Hill, CA headquarters. Multiple cameras and crew members were put in place, both on the ground and on the airplane itself. After days of deliberation, the decision was made to also affix a Replay XD1080 HD camera to the bumper that would serve as the victim of the drop. Needless to say, the crew was anxious to see if the camera would survive, and if there would be any usable footage after the bumper hit the ground. Check out the video to see what happened.
"Our goal with this video was to effectively educate our customers on the general principles and attributes of fiberglass and polyurethane body kits, weighing the pros and cons of each to help viewers decide which material was the best for their vehicle. Making it exciting was also important since we didn't want to bore our audience with the details," stated general manager Eric Ferguson.
So why go to such lengths for something so seemingly mundane as a body kit video? "The challenge for us, on the video production end of things, was to be able to convey things in an entertaining fashion, while still making sure to get our point across. We wanted to really make this video stand out since body kits are such a big seller for Andy's. After some long discussions, dropping a bumper out of an airplane seemed like a pretty entertaining thing to share with everyone, and we think we accomplished our mission" said Andy's Auto Sport's video director, Mike Self.
In the end, the video came together without a hitch and, with potentially only one chance to film the air drop, it was crucial to get things right.
To see this and many other exciting and informative videos, from auto parts installs to manufacturer spotlights and interviews, visit AndysAutoSport.com, AndysAutoSportTV.com, or YouTube.com/AndysAutoSportTV.
Andy's Auto Sport is an online retailer and wholesaler of OEM and aftermarket automotive parts and accessories, and is the largest retailer of aftermarket body kits in the world, with more than 2 million unique online visitors per month. The company serves customers worldwide and has been featured in magazines such as Import Tuner, Modified, Low Rider, Truckin', as well as on television shows such as Pimp My Ride, Street Fury, Trucks!, and Two Guys Garage.