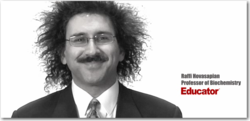 With the best instructor in a subject, learning anything is possible.
Los Angeles, CA (PRWEB) February 28, 2013
Science students everywhere now have a whole new reason to get excited about studying. Educator.com's highly anticipated Biochemistry course is now available.
Our Facebook fans, subscribers, and followers had a lot to say while they eagerly awaited the release of our comprehensive Biochemistry course, which contains over 40 hours of college-level instruction. The wait is finally over! Educator.com now has everything students need to pass, and more importantly, understand Biochemistry.
Biochemistry is the chemistry of the living world and sets the foundation for a variety of higher level subjects. Students planning to pursue a career in medicine, pharmacology, forensic science, or medical research will eventually need to take a Biochemistry class. Studying this complex science online with Educator.com allows students to supplement what they are learning in school with engaging video lectures, colorful diagrams, helpful QuickNotes, and downloadable slides. The one-to-one dual screen and sleek interface not only makes learning aesthetically pleasing, but also engaging as well. Additionally, our powerful search engine allows viewers to pinpoint exactly where in the lesson they want to review or skip ahead. Find topics such as Osmosis, Titrations, or Monosaccharides quickly and easily! Also be sure to check out the popular Organic Chemistry course.
For the affordable price of $35 dollars a month, students have complete access to a variety of high school, college, and advanced level science courses. With 60+ courses to choose from on Educator.com, students can learn just about anything, anywhere. Opt for the 6 month or 12 month bundle plan and save even more.
Educator.com is excited to provide today's future scientists with digital study material that meets both their academic and financial needs. New and exciting courses are frequently added. At this time Educator's Biochemistry lessons are available for immediate viewing.
###
Educator.com pairs students with the best university professors and educators in the country. Educator's goal is to provide high school, college, and professional students with a variety of academic subjects in an online video format that is affordable, accessible, effective, and comprehensive.
The most effective way to improve education is to have the best teachers teach. With the best instructor in a subject, learning anything is possible. Every student deserves an excellent education regardless of geographic location or socioeconomic status and with Educator.com's affordable pricing everyone can access the site's complete content. For more information about the company please visit the About Us Page.