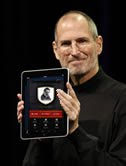 The Newest and Best Way to Access the Bible
Los Angeles, CA (PRWEB) February 22, 2013
Many Bible apps on the market offer similar features and most are just the text of the Bible. None come close to the personal presentation of the text of the King James Bible coupled with the incomparable voice of Alexander Scourby, "The Voice of the Bible".
The Scourby Audio Bible App is a word for word narration of the entire KJV Bible and is the most complete Audio Bible in the World. In maintaining tonal variation and captivating reading, the Alexander Scourby Audio Bible recording project took four years to complete.
The Audio Bible has been used extensively and reproduced in various forms in the past, but is now developed and re-mastered to be used on the most technologically advanced media to date: Android and Apple Platforms, Amazon and Nook Environments.
This is not only the newest way of accessing the Bible, but it is arguably the only app, through the resonant voice of Alexander Scourby, that reads the Bible back to the listener in a personal and well-articulated presentation.
By selecting the regiment of verses that are meant ti be read, the voice of Alexander Scourby is rendered for playback in a personal and impacting presentation that seemingly brings the narrator right into the room. One simply has to select the verses and hit play, and oresto, the user can listen to the [King James Bible for as long as desired.
This is ideal for Bible Study and a way to quickly read through the KJV Bible in a short time. It only takes 72 hours to get through the Bible and when you think about it, that is less than two 40 hour work weeks. Listener's can read along with Alexander Scourby and consequently, they get more out of the Bible while at the same time increase attention levels four-fold.
Before and around the time of Christ, Bible teachings were all done verbally via the spoken word since few people were able to read. Therefore, most people listened to the scribe read the scripture to them. Now that word is presented both as voice and text by the Scourby Audio Bible App, the only one of its kind to adopt ancient methods of presentation in rendering the newest way to access the Bible for all classes of English listeners. Litchfield also produces the Bible Mp3 Download for Mp3 players and computers.
Litchfield Associates are the sole owners of all Scourby Narration Productions, and are the developers of the Scourby Audio Bible Apps and Bible Mp3 download. Litchfield Associates has raised the bar in audio presentations of the King James Bible.
The Audio Bible APP features the voice of Alexander Scourby, heralded as having the "Greatest Voice Ever Recorded". Users can get full details on these cutting edge technological products, which are the newest and best way to access the oldest book at: http://scourby.com