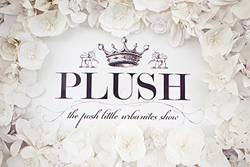 PLUSH continues to offer an exciting environment for premium brands to connect with both eco-conscious retailers and modern parents who are focused on the next big trends in this industry.
Los Angeles, CA (PRWEB) February 22, 2013
Jina Park, CEO and Founder of PLUSH is thrilled to announce her PLUSH Show 2013 Platinum sponsor Baby Jogger, and participating sponsors DaddyScrubs and Ubbi. PLUSH show is a luxury baby and toddler trade and consumer show upcoming June 7th – 9th, 2013 at the Hyatt Regency Century Plaza, Los Angeles, CA.
"We are thrilled to be heading into our second year with PLUSH as a Platinum sponsor," said Erica Jutzin, of Baby Jogger. "PLUSH continues to offer an exciting environment for premium brands to connect with both eco-conscious retailers and modern parents who are focused on the next big trends in this industry. We are delighted to be featured and we look forward to working in partnership with Jina Park at her prestigious PLUSH event!"
Returning Gold sponsor, DaddyScrubs founder Robert Nickell said, "We are so excited to once again participate with Jina Park and PLUSH. This is the premier event in Southern California for vendors in the industry to interact with retailers, SoCal mom and dads, as well as celebrity and media in a friendly and comfortable environment. Each year Jina rolls out fun surprises and creates new reasons to be a supportive partner of her events."
With quality eco-friendly products, Silver sponsor Ubbi is a welcomed partner to the upcoming PLUSH show for eco-minded moms and dads.
"Offering an unmatched sense of style and functionality, we are honored to showcase our signature diaper pail collection at such a prestigious event", said Nadine Girard, Marketing Director for Ubbi. "As parents ourselves, we take the utmost pride in offering families exceptional eco-conscious products and look forward to presenting our luxury diaper pail alongside premium baby & children's brands. It is no question that the PLUSH Show highlights products and companies adhering to the latest industry trends and we are privileged to be taking part in such a chic and au courant event."
About Baby Jogger
Established in 1984, Baby Jogger is the original inventor and leading manufacturer of the three wheeled jogging stroller and all-terrain stroller. Baby Jogger strollers offer an array of innovative features to fit every parent's needs – from easy maneuvering swivel wheels and unique suspension systems to a fully customizable chassis and stylish functionality, each stroller is designed to help make parents' lives easier. In 2004, Baby Jogger unveiled its patented Quick-Fold Technology, which enables users to fold the stroller in half with one quick and simple step. In 2007, Baby Jogger expanded upon their standard use strollers to develop the City Series – an extensive array of urban use and all-terrain strollers designed for fashion forward parents. The City Series' modern designs have been embraced worldwide and are in demand domestically as the new "it" products with a wide clientele ranging from the average American family to Hollywood's top celebrities. In addition, Baby Jogger products have won over 30 design and innovation awards in the past four years and are safety certified by the world's most well respected independent testing organizations. Please visit Babyjogger.com to learn more.
About DaddyScrubs
DaddyScrubs introduced its line of Daddy Gifts, including their signature DaddyScrubs, I'm the Daddy™ tees, hoodies, hats and accessories in September 2009. This trusted and unique brand was created by a Dad – for Dads – in every stage of fatherhood, from frantic first-timers to the calm, cool and collected experienced daddies of the maternity ward.
The brand was built upon the premise that new Dads deserve to feel special and comfortable during one of life's most exciting – and most important – times. We're talkin' labor, delivery and beyond.
Founder and father of seven children, Robert Nickell discovered there was a void in the marketplace for comfortable delivery room attire for Dad. So with input from his wife, he created this exclusive, one-of-a-kind 'Delivery Room Duds for Dads' with the eye-catching and large-lettered proclamation: "I'm the Daddy!" The DaddyScrubs brand reaches beyond "Dad" – and provides the absolute perfect gift from moms, sisters, sister-in-laws and wives for that special "father" in their lives. "It's a great gift from just about anyone who wants to show their love and appreciation to any father in their lives" says Robert. All Daddy Gifts by DaddyScrubs are available online at DaddyScrubs.com.
About Ubbi
Emerging time and time again as the ultimate 'stink-free' nursery solution, the eco-friendly Ubbi diaper pail is made from powder-coated steel and is equipped with rubber seals strategically designed to lock in odors and prevent leaks. Testing significantly above industry standards and offering an unparalleled value, the Ubbi diaper pail allows parents to use any standard trash bag or reusable cloth liner, without having to consider the extra cost of customized bags. Utilizing high quality materials and living up to its superior functionality, this stylish nursery essential is available in eleven eye-popping colors and is sure to fit the décor of any home. Please visit http://www.ubbiworld.com to learn more.
About PLUSH
PLUSH is a baby and toddler trade show dedicated to all the posh and eco-conscious retailers and parents who are continually setting the next big trend. Unlike other juvenile shows in the industry, PLUSH sets itself apart by being one step ahead, and selecting vendors that are worth the time and consideration. Jina Park uses endless research on what today's modern parents are seeking and finds the best, most innovative, eco-friendly, and luxurious products on the market, and places them all in one location for retailers, consumers, and media. PLUSH adds the incredible dimension of entertainment and mainstream media coverage and A-list celebrity marketing opportunities to a juveniles industry show. PLUSH 2012 had The Honest Company's Jessica Alba as their title sponsor, and previous celebrity hosts from 2011-2012 included Catt Sadler, Jason Kennedy, and John Salley.
The upcoming PLUSH 2013 show has now expanded to B2B with an upcoming 3-day trade show June 7th – 9th, 2013 at the Hyatt Regency Century Plaza, located at 2025 Avenue of the Stars, Los Angeles, CA 90067. Registration for PLUSH 2013 is now open, but 10x10 booths are now sold out. For more information: plushshow.com.