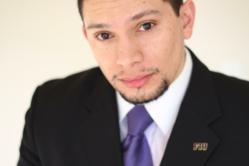 "The HACU internship was a defining moment in my life. It shaped me and molded me into a leader." - Jeff Zelaya, HACU Alum and Motivational Speaker
Washington D.C (PRWEB) February 22, 2013
Just 4 years ago, Jeff Zelaya for the first time in his life set foot in Washington D.C. He was here to take part in the prestigious Hispanic National Internship Program (HNIP). He would be interning with the USDA for approximately 6 months. At the time Jeff was finishing his Associates Degree at Broward College and although Jeff was keeping his grades up, he was still having a challenging time deciding what would be next for him.That was until he arrived in the Nation's Capital and experienced HNIP. When asked about his experience Jeff says:
"The HACU internship was a defining moment in my life. It shaped me and molded me into a leader. The people that I met, the opportunities that I seized and the lessons that I learned made me a successful college student, business professional, community member and now...business owner."
Shortly after his internship experience, Jeff went on to graduate Broward College with Highest Honors, enrolled at Florida International University with a full scholarship and became one of FIU's most involved and successful students. At the 2011 commencement ceremony FIU President Mark Rosenberg recognized Jeff Zelaya as a "Worlds Ahead Graduate" one of only two students that received the prestigious award that is reserved for remarkable students that have made significant accomplishments in their academics, professional and personal lives.
Jeff has since launched his college speaking tour and has presented workshops and keynotes speeches for students at Florida Atlantic University, Broward College, Florida International University, Salisbury University, University of Central Oklahoma, University of Texas, Lansing Community College, SUNY New Paltz and several more.
In his presentations Jeff shares his secrets to success as a college student. The central focus of his presentations are on how college students could leverage social media especially LinkedIn for internships, careers opportunities and professional development.
On February 28th at 4:30 Jeff will be delivering his keynote "How HACU Opened My Door of Opportunity" at the Dupont Circle HACU Office. In his presentation Jeff Zelaya will share his insight about the HACU internship opportunity, what it did for him and his career and finally tips on what interns can do to maximize their internship experience.
For more information about booking Jeff Zelaya for your college or university please visit Social Media 4 Students.