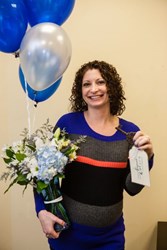 "This successful promotion not only drives business to Newport Beach, but reinforces the vital role of Visit Newport Beach Inc. in securing a best in-class meeting experience" says Michelle Donahue, Director of Sales
Newport Beach, California (PRWEB) February 22, 2013
Visit Newport Beach Inc., the destination marketing organization for Newport Beach, California, today announced the winner of its annual "Live the Dream" Sweepstakes – Amanda Bill of Exhibit Promotions Plus, Inc. from Ellicott, Maryland.
"2012 marks the second year of our 'Live the Dream' Sweepstakes," said Michelle Donahue, Director of Sales, "We are thrilled to recognize Amanda Bill, one of our valued meeting planner partners, who we know will enjoy her week-long vacation in the paradise that is Newport Beach, California."
The "Live the Dream" Sweepstakes encourages meeting planners to submit qualified Requests for Proposal (RFPs) through their Visit Newport Beach Inc. Sales Person for meetings in Newport Beach – a world-class destination that offers an impressive array of hotels and other venues with a wide range of appealing meeting spaces, as well as a year-round resort setting rich with amenities and activity options.
Amanda Bill was randomly selected from candidates to win the sweepstakes by an independent third party. Visit Newport Beach Inc. National Sales Manager, Amanda Kliem surprised Amanda at her Baltimore, Maryland office on January 30, 2013 to present her with her prize. To view the ambush, go to http://www.visitnewportbeach.com/sweepstakes
As the "Live the Dream" grand prize winner, Amanda Bill receives a six-night, seven-day vacation for herself and a guest to Newport Beach, California, where she will stay in a beautiful beachfront residence, courtesy of Burr White Vacation Rentals. She also will enjoy the seven-day use of a luxury-class rental car from Beverly Hills Rent-A-Car, a private dining experience on a Hornblower® Yacht, a Duffy Boat Tour of Newport Beach Harbor, a Fashion Island® Gift Card, and a choice of two of the following: spa package, golf package or stand-up paddle board rental, and a Restaurant Experience.
"I can't believe I won a dream come true vacation!" From the RFP submittal, to our client booking business via Visit Newport Beach has been such a smooth, personalized, professional process! Visit Newport Beach makes you feel like you are #1. Exhibit Promotions Plus, Inc looks forward to an ongoing, strong partnership with Visit Newport Beach," says Amanda Bill.
Amanda Bill isn't the only winner in Visit Newport Beach Inc.'s "Live the Dream" promotion. In fact, every meeting planner who submits a qualified RFP to receives a $100 gift card to Nordstrom. In addition, when a meeting planner books an event, they will also receive a $250 American Express Gift Card.
"Our 'Live the Dream' Sweepstakes represents a win-win-win for meeting planners, their clients, and Newport Beach," says Donahue. "This successful promotion not only drives business to Newport Beach, but reinforces the vital role of Visit Newport Beach Inc. in securing a best in-class meeting experience."
Amanda Bill is with Exhibit Promotions Plus, Inc. (EPP), a women owned, GSA approved trade show managers, that was founded in 1969 and quickly became known for delivery of priority attention to detail when serving the needs of Industry clientele.
Amanda Bill is apart of several industry associations including Associations of Meeting Professionals (AMPS), Hospitality Industry Professionals (HIP), International Association of Exhibitions & Events (IAEE), The Center for Association Leadership (ASAE), Meetings Professional International (MPI) and Professional Convention Management Association (PCMA) where she serves on the board for the Chesapeake Chapter as Sponsorship Chair.
About Visit Newport Beach Inc.
Visit Newport Beach Inc. is a non-profit, 501 (C) 6 marketing organizations under contract with the City to position Newport Beach as a visitor and conference destination. Visit Newport Beach Inc. sells the destination through direct sales efforts such as database marketing, lead generation, trade show participation, and familiarization tours for potential clients. In addition to these direct sales efforts, VNB promotes Newport Beach through advertising, international, collateral, online public relations and efforts. Visit Newport Beach Inc. is funded primarily by the city through Transient Occupancy Tax (TOT), as well as through a Tourism Business Improvement District (TBID) and private-sector membership dues from the hospitality industry or other related businesses.