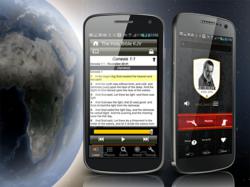 Taking Accessing the Bible to a Whole New Level.
Los Angeles, CA (PRWEB) February 23, 2013
The Scourby Audio Bible App is compatible with the most common mobile operating systems like Apple OS for iPhone and iPad and for Android devices like the Samsung Galaxy and Android Tablets, Amazon's Kindle fire and Nook among many more. The app is a composite and indexed recording of Alexander Scourby's Narration of the King James Bible.
Alexander Scourby is renowned as one of the greatest narrators of all time, noted to have done extensive work with the American Foundation for the Blind and others. Visit scourby.com for a full biography of Alexander Scourby.
The Audio Bible App has a lot of great features, which include a synchronized visual and audio presentation of the King James Bible text, a play and pause button, bookmarking, history of previous readings, a search feature among others. Litchfield Associates asserts the apps usefulness in presentations that include a dive into a historical discourse, a sermon, and Bible studies.
By connecting the mobile device to a sound amplification device, one can make stunning and impacting presentations that add variety to the speaker's voice by mixing it with Alexander Scourby's crisp and clear voice that will resonate with the clarity.
In using the Scourby Audio Bible App, the presenter can select the desired play speed, which means that all readings can be easily timed and scheduled to redeem the presentation time. One does not have to navigate anew when making the presentation; a simple bookmark can save the desired verses for later reading.
Videos, visual illustrations and props are all tools of presentation that have been successfully used in the past. Visit scourby.com and read about Bimodal presentation, a method of presentation that is just as effective, which is extensively used by the makers of the Scourby Bible App in yet the newest way in accessing the Oldest Book and is ideal for Bible Study.
Litchfield Associates are the sole owners of all Scourby Narration Productions, and are the developers of the Scourby Audio Bible Apps and Bible Mp3 download. Litchfield Associates has raised the bar in audio presentations of the King James Bible, the Bible APP features the voice of Alexander Scourby, heralded as having the "Greatest Voice Ever Recorded".
Users can get full details on these cutting edge technological products, which are the newest way to access the oldest book at: http://scourby.com