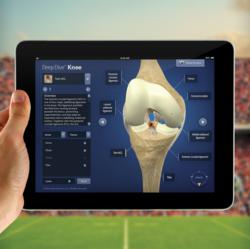 Phase one of our Deep Dive launch includes the knee, hip, and shoulder." says Darik Volpa, CEO, Understand.com.
Reno, Nevada (PRWEB) February 26, 2013
Patients and healthcare professionals will have a better understanding of common orthopedic diseases thanks to the Deep Dives, a new 3D multi-media web application. Launched today by global medical education company, Understand.com the Deep Dives combine highly detailed 3D interactive models, image stills, and surgical video to give users a complete understanding of the anatomy and pathologies of the knee, hip and shoulder.
Information seekers can access the Deep Dives on their physicians web site to explore accurate 3D visualizations of complicated anatomy and learn about common disease pathologies such as Osteoarthritis, Rheumatoid Arthritis, and Torn Meniscus to name a few. Each Deep Dive topic allows the viewer to fully rotate the model and choose from a selection of anatomical positions and structures can be turned on or off individually.
Supporting the visual elements of the orthopedic Deep Dives are concise audio narratives of each disease and disorder featured, including its common causes, symptoms and treatment.
"The multi-media app provides an unprecedented orthopedic educational tool to better educate patients and healthcare professional," said Darik Volpa, Understand's founder and CEO. "The orthopedic Deep Dives is the first of many new modules Understand.com has under development. We will continue to apply this format to all areas of the body, including internal systems and organs, providing extensive information on specific anatomy that seamlessly integrates all types of media for users of all levels of knowledge or expertise."
A complete demo on the knee is available here: Deep Dive Knee.
About Understand.com
Understand.com is a global medical education company dedicated to simplifying complex healthcare topics through the use of medical animation, illustrations and video. Understand.com provides an array of services including custom content creation, licensing, and a proprietary e-learning platform created specifically for healthcare professionals. To date Understand.com has educated more than 5 million patients worldwide and was selected by Inc. Magazine as one of the fastest growing privately held companies in the United States. For more on Understand.com, visit http://www.understand.com.