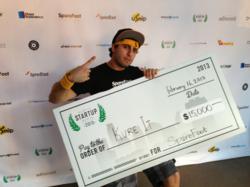 $15,000 is worth more than gold to make a difference in finding a cure for under-researched cancers.
NEWPORT BEACH, CA (PRWEB) February 25, 2013
Self-storage tenant referral service SpareFoot took home overall gold at the third biannual Austin Startup Games on Saturday, winning a $15,000 donation to their favorite nonprofit, Kure It Cancer Research. SpareFoot defeated 15 fellow Austin startup companies in Olympic-style events like Beer Pong, Foosball and Trivia. The prize money is Kure It's largest donation of 2013.
"Congratulations to SpareFoot for making it happen, Kure It certainly appreciates their continuing support," said Barry Hoeven, self-storage industry veteran and Kure It founder. "$15,000 is worth more than gold to make a difference in finding a cure for under-researched cancers. And we're proud to be associated with an event that brings some of Austin's most talented young people together to make an impact on the world"
By taking bronze at the first Winter Startup Games in January 2012, SpareFoot won $500 for Kure It, then an additional $5,000 for their silver placing at the Summer Games in June. In steadily working their way up to gold, SpareFoot has also moved up to become a Gold Level sponsor on the Kure It partner roster. This latest win brings their total Startup Games donations to a whopping $20,500, not counting their $2,500 sponsorship of the first ever Storage Olympics at the CSSA Annual Conference in October 2012.
"The Startup Games is an awesome event that really represents the Austin tech scene, combining startups, partying and doing good," SpareFoot Founder and CEO Chuck Gordon said. "Kure It and their mission mean a lot to us, so I was thrilled to share the news of our gold medal win with Barry and learn what an impact we're making with our donations."
About SpareFoot:
SpareFoot makes renting self-storage easy. Our free marketplace lets customers find and reserve storage units online. We have the largest inventory of storage units in the U.S., with a network of more than 6,500 facilities ranging from mom-and-pop to publicly traded REIT. We reach millions of people who need storage through exclusive partnerships with brands like SelfStorage.com, Apartments.com and Penske Truck Rental. SpareFoot brings consumers and facilities together to deliver the most convenient and enjoyable storage experience possible online, offline, and via mobile. http://sparefoot.com
About Kure It:
Kure It Cancer Research provides funding for innovative research projects focused on kidney cancer and other underfunded cancers. The funds raised through Kure it directly support groundbreaking research at leading cancer centers.