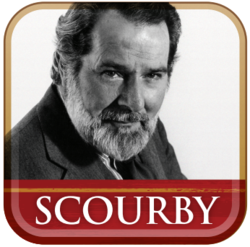 New York, NY (PRWEB) February 24, 2013
The Scourby Bible App, available for download from scourby.com, iTunes, Google Play and Amazon, uses new cutting edge technology to deliver the King James Bible in a powerful new way. This is done by coupling he power of the 402 year old King James Bible, which has stood the test of time, and the power of the voice of Alexander Scourby.
Alexander's Scourby's voice is resonant and expressive and people are captivated with his ability to read the Bible, with the many hard to pronounce words, with such ease. The pronunciation, accentuation and diction is done on a global palette, clearly and easily understood by all English speaking people in the world.
It is recognized as the best recording of the Bible ever done and the Gold standard in Bible narrations. Alexander Scourby worked with institutions like National Geographic and the American Association for the Blind. Visit Scourby.com for more information on his lifetime achievements.
A resonant voice is one that traverses the boundaries of the audible spectrum of frequencies. Many people respond to a frequency of their choosing, for instance, most people would choose to pay attention to mid-toned voices as opposed to deep or high pitched voices. A resonant voice carries across the different pitches, causing an almost immediate effect across all listener types.
Litchfield Associates affirms that the King James Bible presents an accurate historical account of the Hebrew Nation and the most influential person of all time, whose Name presents the turn of the times in Historical reckoning, which is why it can be a great resource for all seeking Christian principles and accurate historical accounts. In perceiving all the facts, an audio presentation can be of great benefit, allowing the user to form opinions and collect information through the captivating voice of the listener.
In using this revolutionary app, listeners capture every detail that might have been missed while reading the Bible The King James Bible in now presented a new way format never before available and is captivating listeners world wide.
There are many narrators who are renowned for their command of the spoken word. However, Alexander Scourby is the standard by which all are measured and he is known as the voice of the Bible and also known as having the greatest voice ever recorded. That voice is now in the all new Scourby Audio Bible app and is the newest and best way to access the King James Bible.
Litcfield Associates are the sole owners of all Scourby Narration Productions, and are the developers of the Scourby Audio Bible Apps and Bible Mp3 download. Litchfield Associates has raised the bar in audio presentations of the King James Bible, the Bible APP features the voice of Alexander Scourby, heralded as having the "Greatest Voice Ever Recorded". Users can get full details on these cutting edge technological products, which are the newest way to access the oldest book at : http://scourby.com