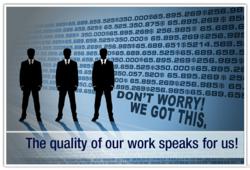 Las Vegas, Nevada (PRWEB) February 23, 2013
An income tax preparation company offering comprehensive tax and a ccounting services for businesses and individuals, IQTAXX recently made the announcement that it has joined the social media trend of creating a Facebook presence in order to provide non-intrusive accessibility to essential updates along with pertinent information about their services.
"Our company is passionate about educating our clientele on all tax matters," said a representative of IQTAXX. "We understand just how busy life gets and want to offer this opportunity for our customers to access information in an easy manner. Facebook offers the perfect venue to inform our community about tax news and our services."
Individuals who visit the IQTAXX Facebook page have access to trending topics related to the preparation of income tax forms. "Many of our clients realize that changes are incorporated into the tax code every year and appreciate the ability to educate themselves through our help," mentioned an employee of IQTAXX.
A comprehensive income tax preparation and accounting company serving the Las Vegas area and neighboring communities, IQTAXX employs competent professionals with industry expertise and the competence to resolve a diversity of tax-related issues. A full range of tax preparation services, including electronic filing, paper filing, audit assistance, and refund anticipation loan services are available at the offices of IQTAXX. Tax Services in Las Vegas by iQTAXX business website includes a list of other tax-related services and a Learning Center with tax education resources.
Interested individuals may join the IQTAXX Facebook page at https://www.facebook.com/iQTAXX.
IQTAXX
Las Vegas Tax Professionals
6620 West Flamingo Road
Suite 3
Las Vegas, NV 89103
702.871.7884
702.933.3127 (Fax)
Iqtaxx.com
###