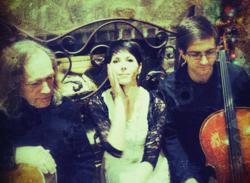 "Heather McCready makes music to calm the chaotic soul. The Arlington-based folk singer-songwriter zeroes in on lovely melodies, thoughtful lyrics and the comfort of uncluttered instrumentation".
Mario Tarradell, Music Critic, Dallas Morning News
Dallas, Texas (PRWEB) February 22, 2013
A very unique evening of music and entertainment with beautiful eclectic folk music, storytelling and a diverse group of multi-talented musicians in one artistically stimulating evening at one of the most coveted music listening venues in the country! Tickets are selling fast and are cheaper in advance. Go to http://www.unclecalvins.org or buy them at the door. Uncle Calvin's Coffeehouse is held within the Fellowship Hall of Northpark Presbyterian Church at 9555 North Central Expressway, Dallas, TX 75231
The Church is near the southwest corner of North Central Expressway (US75) and Walnut Hill Lane -- very easy to spot.
"Heather McCready makes music to calm the chaotic soul. The Arlington-based folk singer-songwriter zeroes in on lovely melodies, thoughtful lyrics and the comfort of uncluttered instrumentation." -Mario Tarradell, Music Critic, "Dallas Morning News". Watch Heather's simple, "unplugged" performance with arranger/producer, Milo #Deering and her interview with Mario Tarradell here: http://popcultureblog.dallasnews.com/2013/02/local-music-connection-heather-mccready-soothes-the-soul-and-talks-passionately-about-mental-health-awareness.html/
Acoustic folk Singer/Songwriter Heather McCready, Milo Deering (guitar, fiddle, ukulele, tin whistle), and Brian Magnus's (cello) make a mesmerizing trio! With touches of bluegrass, Celtic, classical, and folk, Heather McCready has an original and remarkable sound that is all her own. Heather is a uniquely gifted and prolific Singer and Songwriter whose music will reach deep inside of you and touch your spirit. Described as "evocative" and "refreshing", her music is imaginative, whimsical and beautiful. Heather thrives on individuality and bursts with creative expression resulting in profound tracks that will move her listeners. Heather currently has airplay all over the world including in the United States, TheNetherlands, Germany, France, England and others.
Since 2009, Heather has released five full-length albums, "Finally Free", "Neverland", "Give It A Day", "Christmas, The Way I Hear It", and her new release, "Bluebirdy". Through every album, Heather continues to grow and evolve as a musician. Heather truly understands the art of making music by focusing on detail, simplicity and purity of sound. Heather and her band use a blend of acoustic guitars, fiddles, mandolin, piano, cello, and upright bass, as well as Heather's own angelic and distinctly pure voice to create unparalleled compositions. She will take you to a place you will never want to leave. http://www.HeatherMcCready.com/
Tom McDermott is a highly sought after first generation Irish-American storyteller, singer, musician, author, comedian, percussionist and speaker who wanders about the country sharing stories, songs, laughter, inspiration, noise and mayhem with over 50,000 kids and adults each year (since 1991). Accompanying himself on guitar, ukulele, hurdy gurdy, theremin, bodhran, lyre, flutes or drums, Tom combines original music and instrumentation with original and adapted traditional stories to engage his listeners in laughter, critical thought and creativity. An award-winning storyteller and speaker, Tom performs at festivals and corporate events all across the U.S. He also facilitates drum circles and "found sound" workshops for businesses, churches and camps with a focus on team building, community development and personal wellness. He has several recordings and published books for children and adults.
Uncle Calvin's Coffeehouse is a not-for-profit, volunteer-run live music venue, presenting concerts nearly every Friday night in the fellowship hall of Northpark Presbyterian Church in Dallas, TX. Our goal is to bring you the best possible environment for listening to music, with clear, pristine sound, free of smoke, alcohol, and conversation.
Musically, Uncle Calvin's is in the acoustically-based categories of singer/songwriter, folk, americana, roots, blues, bluegrass, world, and the like. There is primarily original music, songs written by the performers, with just an occasional tune here and there that is recognized already. The performers are among the best in the country (and the world) at what they do.
Uncle Calvin's is known throughout the US, Canada, and beyond as one of the best venues of their kind out there. They are able to attract the best of the best to come play. Uncle Calvin's bookers travel to festivals and conferences all over the country, such as the Kerrville Folk Festival and Folk Alliance International, constantly on the lookout for the best new artists to bring you.
Some Past Performers at Uncle Calvin's include
David Wilcox
Janis Ian
Dixie Chicks
Carrie Newcomer
John Gorka
Sara Hickman
Terri Hendrix
Albert & Gage
Brooks Williams
Tom Paxton
Tom Russell
Eliza Gilkyson
Trout Fishing in America
Susan Werner
Joe Ely
Butch Hancock
Jimmy LaFave
Pierce Pettis
Robin & Linda Williams
Catie Curtis
Don Edwards
Ruthie Foster
Ray Wylie Hubbard
Patty Larkin
Ellis Paul
Chuck Pyle
Martin Sexton
Bill Staines
Kevin Welch