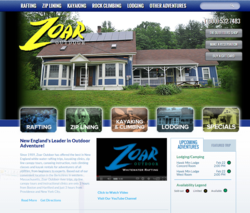 (PRWEB) February 22, 2013
As every internet user knows, online fads are short-lived, and website visitors expect up-to-date information on every page they visit. For small businesses, keeping their websites both current and dynamic can be a daunting task. One way to approach this problem, as the Massachusetts outdoor center Zoar Outdoor has discovered, is to use a robust content management system.
Zoar Outdoor's primary business is providing guided whitewater rafting, kayaking and zip line canopy tours, so simplifying website maintenance allows them to focus on their core competencies while fulfilling their guests' needs for accurate information about trips, products and upcoming events. They maintain five primary sites for their rafting, zip line trips, kayak and canoe lessons, guest lodge and Outfitters Shop, which sells whitewater kayak and canoe gear at their store in Charlemont, Massachusetts and online. To keep all of these sites updated Zoar Outdoor uses an open source content management system (CMS).
Blair Winans, from Winans Creative, which designs and manages Zoar Outdoor's website, explains that with a CMS, everything is "run via an application on the back end of the site. It allows them to control, go in and edit the content." This means that Zoar Outdoor staff with no html knowledge can keep the site updated without relying entirely on Winans Creative for every minor change.
Winan's Creative set up the CMS for Zoar Outdoor using open source software that they then configured to fit the company's needs. Getting all the content from the website onto the CMS was a process which took several years to complete. Having finished that effort, the company can reap the benefits of having all of its content on a system that allows them to easily manipulate the look of the site without affecting the content. "Now that they're on there, we can focus more on how to market Zoar online, rather than how do we manage the technology side of things," says Winans.
In fact, Zoar Outdoor just relaunched their website with an entirely new look. Winans says the change was primarily about presentation and accessibility. "Zoar has a lot of stuff to offer and we wanted to highlight the most frequently accessed pages on the homepage, including tying into other things that Zoar offers like the online store," he says.
The new look for the website simplifies the information presented and makes finding the right page easier for visitors. It is also probably the first of many makeovers. Now that the whole site is on a CMS, says Winans, "We can put a front end design on the site every couple of years, just to keep things fresh and to make it clear to everyone that Zoar Outdoor is on the forefront of outdoor adventure."