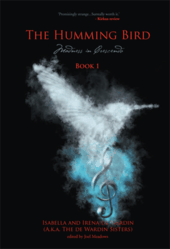 UCCLE, Belgium (PRWEB) February 22, 2013
From the imagination of sisters Isabella and Irena de Wardin comes the tale of The Humming Bird, a story set in the fictional nation of Voskia wracked with political turmoil. It covers the life and times of Maria Langlord, a daughter of a noble family, as she strives to escape the shackles of a planned marriage with the hilarious, buffoonish, perverted and elderly Lord Byronaless. The appearance of a wild gypsy violinist and buffoonish Byronaless triggers Maria's wish to know the world around her and join a revolutionary struggle against a fascist force threatening Voskia.
The story begins in the newly democratized nation of Voskia, during a time of great upheaval. After four years of war, the nation is impoverished and its future hangs in the balance. Despite its republican government, members of the former nobility and aristocracy still hold sway, desperately clinging to the vestiges of their power. An astute, sanguinary politician marches for presidency, and garners the favor of the rich and the powerful, becoming a force to be reckoned with. The promise of genocide hangs thick in the air and the heart of resistance beats within a singular, particular individual: Maria who, after an unexpected turn of events, results in becoming tangled in this epic struggle for freedom. She is then plunged into a series of unforgettable adventures, a journey accompanied by music, a cheerful, rebellious messenger, a bringer of sensual magic and madness that will guide her through the darkness of the newborn disaster striking her nation.
"The world the authors create is exaggerated and because of that exaggeration there is a lot of humour. I was laughing out loud, really. It's a very exciting read!" says Charlotte Hubert.
"For readers of The Humming Bird, the greatest reward comes not through any final resolution, but in the promise of a sequel," reports the Clarion Review.
Readers will follow Maria as her shadowy, wintry life is lit by warm melodies recapturing wisps of dreams, putting them back into words, into music. Music, poetry, comedy and the struggle for liberty, all these aspects will come together in the De Wardin sisters' literary tour de force as The Humming Bird takes flight.
For more information on this book, interested parties may log on to http://www.Xlibris.com.
About the Author
When an extroverted ex ballerina and a socially awkward individual finally realize the best form of friendship is found in your close family members, they decide to give their relationship a shot; they form a metal band called Wardoom, take fencing lessons together and, most importantly, they start writing. Born in 1989 and 1990, Isabella and Irena de Wardin graduated with the International Baccalaureate, studied International Affairs and now are currently doing their masters of Science in European Union Policy. They have three dogs, a Siberian Husky and two Yorkshire Terriers. The Humming Bird: Madness in Crescendo and The Humming Bird: Symphonic Destruction are the first fruits of their labour…and certainly not their last. Both Isabella and Irena began to write together at the age of 17 and, inspire themselves from events that occur in their day-to-day lives. They can be followed on Facebook under the name: "The de Wardin Sisters."
The Humming Bird * by Irena and Isabella de Wardin
Madness in Crescendo
Publication Date: November 19, 2012
Trade Paperback; £9.99; 370 pages; 978-1-4797-4743-6
Trade Hardback; £18.99; 370 pages; 978-1-4797-4744-3
Ebook; £3.99; 978-1-4797-4745-0
Members of the media who wish to review this book may request a complimentary paperback copy by contacting the publisher at +0800-644-6988. To purchase copies of the book for resale, please fax Xlibris at 44-203-006-8880 or call +0800-644-6988.
For more information, contact Xlibris at +0800-644-6988 or on the web at http://www.XlibrisPublishing.co.uk.