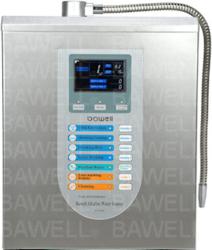 Making the best water ionizers available to the public is what the Bawell brand specializes in. Confidence in our superior craftsmanship and services is exemplified by our forever lifetime warranty and 60 day money back guarantee.
Boca Raton, Florida (PRWEB) February 23, 2013
The Bawell ionizer brand has brought to market the new water Fountain ionizing machine for lovers of alkaline ionized drinking water. Bawell created this new machine specifically for customers who want the best in their water ionizer purchase but do not want to pay top dollar or may feel that prices from other companies are overpriced. With the success of previous models and after carefully analyzing the ionizer industry, Bawell decided to fill in the gap between lower end outdated units and newer high end top of the line machines with the new Fountain model 1775 ionizer.
The result is a revolutionary new design which can achieve where others in its price category fall short. In the process of creating this device, Bawell removed the old outdated transformer power system used in 80% of all machines and replaced it with a new more durable, reliable, and longer lasting Switch Mode Power Supply or SMPS power system. The advantages gained with this new power system include increased PH and ORP capabilities as well as improved performance. You can now make 1 gallon of alkaline ionized drinking water every 30 seconds whereas with the old designs, it would take you 2 to 3 minutes to make that same gallon.
Bawell decided to take full advantage of the improvement in power by installing platinum coated titanium plates produced in a quadruple or 4 times repeated dipping process. This process insured that the thickest and most uniform coating of platinum covered the titanium plates used in the Fountain ionizer making it the best 7 platinum plate ionizer with a 20+ year lifespan on the plates.
Next internal filtration was improved replacing the standard one filter design with a new two internal filter design. The two stage internal filtration process gave the Fountain a much greater capacity to remove harmful chemicals and contaminants from tap water. Having a two stage filtration process also lets the owner of the ionizer customize the filtering process based upon the location of use. Customers with well water or reverse osmosis filters can connect the Fountain model directly to their existing filtration systems without any modifications. Users in large cities with municipal city tap water have a choice between filters designed specifically to remove chemicals or filters designed specifically to remove particles, or they can use both in combination based upon their needs.
Bawell next took the design one step further and improved upon the usability and portability of ionizers by giving the water Fountain model two source water connection options. Mr. Daniel Ocon of Bawell was quoted saying: "Owners of a Fountain model can connect the machine directly to their kitchen faucets or under the sink to the water line below the counter. This is great option and not found in any other ionizer. Giving the owner improved value is what the Bawell brand prides itself on and with the Fountain model if customers are unable to connect their machines to the kitchen faucet they can just connect it below their sink. In the future if the customer moves or wishes to take their unit with them while traveling they will always have an easier time connecting this model than they would other machines which only have one connection option."
Bawell has been making ionizers for the past 10 years and incorporating innovations making the Bawell Fountain one of the best water ionizers is what the company specializes in. Taking pride in their craftsmanship the Bawell Fountain model 1775 comes complete with a Forever Lifetime Warranty and a 60 Day 100% money back return policy. Bawell is the only manufacturer which places such a lengthy warranty and return policy on its products.