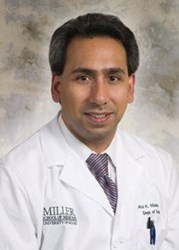 Dr. Madan Encourages the LAP-BAND® System as an Internationally Cost-Effective Solution to Obesity.
Los Angeles, California (PRWEB) February 22, 2013
Dr. Madan points out that obesity is not only a nationally debated topic in the United States, but also in the United Kingdom. Bariatric surgeries are becoming more in vogue in the United Kingdom, although the National Health Service is reluctant to spend more national funds than necessary on addressing rising obesity rates. Gastric banding and gastric bypass remain the most used of the bariatric surgery methods, and experts are debating the dangers versus the need for bariatric surgery on younger and younger patients. According to a recent article (by: Stephen Adams on 22 Feb 2013) in The Telegraph in Britain, the National Health Service is overwhelmed by the need for clear weight-loss solutions.
In a six-year period between 2006 and 2012, there has been a five-fold increase in completed gastric bypass procedures, which doesn't account for the unmet requests. In the same period, gastric banding procedures doubled. A spokesman for the British Obesity and Metabolic Surgery Society indicated that the 1.5 million candidates for bariatric surgery in the United Kingdom could benefit from research done in the United States, adding 3 years of quality life by engaging in surgery that results in significant weight loss and often reversing type 2 diabetes.
Since the National Health Service currently spends £50 million pounds on bariatric procedures, they are necessarily interested in cost-cutting measures. In fact, there is a three-year study to determine which bariatric procedure is more effective, gastric bypass or gastric banding. Dr. Atul Madan notes that since three years is the amount of time added on average by engaging in bariatric surgery, it may not be as important to get the perfect procedure as the best procedure - before obesity-related risk factors increase for surgical candidates.
Dr. Madan supports the findings of a study published in Diabetes, Obesity and Metabolism in September 2012, indicating that the LAP-BAND Adjustable Gastric Banding System (LAP-BAND®) may be the most cost-effective measure possible for the National Health Service. The individual cost of the gastric banding process was relayed through a validated computer program that allowed for inflation and the cost savings gained by reduced health issues such as diabetes and high blood pressure, related to the weight loss experienced after gastric banding. Most studies estimate a long-term 50% reduction in excess weight maintained over a period of more than five years. When estimated against the current medical methods used in the United Kingdom, such as pharmacotherapy and lifestyle intervention, it was estimated that gastric banding would cost nearly£9,000 less for each patient after 5 years, than obese patients treated via standard medical management. Estimated savings included medication for diabetes, sleep apnea and asthma, and fewer interactions with medical professionals.
Although the LAP-BAND Adjustable Gastric Banding System (LAP-BAND®) is not the only bariatric measure proven to reduce the effects of obesity, bariatric surgeon Dr. Madan cautions patients on complications with other bariatric methods. He notes that the sleeve gastrectomy is making headlines as the possible replacement for other surgical means of weight loss, but studies have not yet proven its long-term effectiveness. Staple-line failure and chronic vomiting, associated most often with gastric bypass, can lead to weight regain and post-operative depression. Dumping', in which the body attempts to rid itself of food with a high content of fat and sugar, can lead to more serious ailments than just nausea and light-headedness. Gastric bypass is known to lead to malabsorption rates of nutrients. Lack of vitamin B and iron can result in lack of energy and possible issues with bone metabolism. Dehydration is a more serious matter, because lack of fluids is known to be a factor in kidney stones and other painful maladies.
However, notes Dr. Madan, LAP-BAND® surgery does not come free of necessary lifestyle changes. Just as gastric bypass patients must adjust to sipping liquids rather than gulping them, and consistently taking vitamin supplements to counteract low nutrient absorption, LAP-BAND® patients must become skilled at eating food much more slowly. Types of food must also change, as it is difficult for the body to absorb large chunks of protein, especially protein loaded with fat. Lean meats, minimum amounts of carbohydrates, and low-calorie snacks should replace fried foods and simple sugars. Ideally, post-operative patients should prepare for and follow up any bariatric surgery with a high-liquid diet and an increased amount of exercise.
A current LAP-BAND® surgeon, Dr. Madan further notes that success after surgery is often contingent upon permanent lifestyle change. Dr. Madan has written 175 articles, and was the first in Memphis to perform a laparoscopic gastric bypass. To date, he has performed over 2,000 laparoscopic gastric bypasses and gastric banding procedures, and was first to offer an incision-less treatment for post-operative weight gain. As the former Chief of Laparoendoscopic and Bariatric Surgery Division at the University of Miami, he may well be considered an expert in his field.
Dr. Madan's patient reviews are consistently high, and he received the 2011 and 2012 Patients' Choice Award.
For more information on Dr. Atul Madan or the LAP-BAND surgery, call (213) 973-2263, or review more on Dr. Madan on dr-atul-madan.com