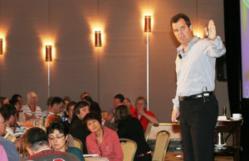 This year's conference we'll be running specific sessions of active investors so you can be sure to get exactly what you came for!
(PRWEB) February 22, 2013
Property search website Rightmove reveals that sellers are now demanding the highest level of prices since the early days of the financial crisis. Asking prices increased by 1.1% than the previous year. Rightmove believes this is making the UK Property market recover smoothly and steadily.
This is good news for the average property investor. But for buyers, this only makes it harder for them to make the first step on the property ladder. This is why property strategist and self-made millionaire, Rick Otton, will be coming to the UK this April.
Otton is hosting his 3-day Zero Debt Property Cash Flow Conference on the 19th, 20th, and 21st of April. "I'll show you how to buy a house with my proven property system even if you have no cash, credit, or experience!" Otton said.
Purchasing Properties through a Revolutionary Out-of-the-Box System
Rick Otton uncovered this revolutionary system in 1991 when he wanted to purchase several investment properties at once but banks wouldn't lend him some money. After developing these strategies, he was able to build his portfolio of more than 76 properties in 12 months and was able to invest on properties in the UK, US, Australia, and New Zealand.
And now he is sharing his out-of-box proven property tools in his 3-day boot camp. "This property extravaganza is guaranteed to totally blow your mind and teach you more strategies, techniques, and systems for investing and purchasing property in 2013 than you've ever heard before!" Otton said.
Otton's event is nothing like those other seminars that has several property investment gurus on stage making people feel they are sold to every 5 minutes. "You'll get 3 days of me, raw and unplugged. No guest speakers, no pitching. Just cutting –edge investment strategies that you can take away and use immediately to purchase a house without needing a bank loan, a mortgage, or invest any of your own money," explained Otton.
Aside from teaching and discussing his innovative and proven strategies, Rick Otton will also demonstrate real-life deals and show people some recent and highly-profitable deals he's done.
"One of the things that make my conferences so unique is the huge amount of experience and ideas the attendees bring with them. This year's conference we'll be running specific sessions of active investors so you can be sure to get exactly what you came for!" Otton said.
Every individual who attended Otton's events have walked out gaining more than what they have originally expected. "Rick is really the world expert on property options so he is the best person to learn from. He is also a great teacher and mentor," Simon Zutshi, one of Otton's students, said.
Download his free power property pack at http://www.rickotton.co.uk/ get an overview of the amazing system that will change the way you transact houses!
About Rick Otton
Rick Otton has spent decades making money by snapping up inexpensive real estate and putting it to work building wealth.
He is the founder and CEO of We Buy Houses, which operates in the U.S., U.K., Australia and New Zealand putting his strategies to work every day.
Otton received his start in alternative real estate investment in 1991 and within a year acquired 76 properties. In the following years, he made a fortune using his low-risk, high-reward strategies to inexpensively acquire real estate.
Now, Otton shares the wealth by sharing the wisdom, teaching others how to buy and sell real estate without cutting banks and other middlemen in on the deal.
In 2008 Rick revealed his strategies in the United Kingdom and became the creator of 'Houses for a Pound'. Otton has been featured in a variety of television programs and magazines.
More Mr Otton's UK Zero-Debt Property Cashflow Conference are at RickOtton.co.uk.