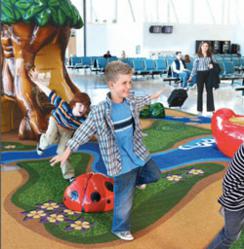 Children are high energy and need a safe play space when traveling.
Englewood, CO (PRWEB) February 25, 2013
"Children are high energy and need a safe play space," says Paula Mugford, Manager of Guest Programs. "A positive experience at our airport for families improves the chances of them choosing Toronto Pearson as a connection hub and sharing news of their good experience."
According to Ms. Mugford, Toronto Pearson International Airport is in a cultural transition.
"Our transition to referring to the travelling public as our guests rather than passengers changes how we look at and work to serve them," explains Mugford. "We are here to take care of our guests, provide a high level of service, increase the efficiency of their journey through Toronto Pearson, and offer services and amenities that they are looking for with some delightful surprises, as well."
For families, one of those delightful surprises is the newly opened soft play area located in Lounge Q in Terminal 1. Designed, manufactured and installed by PLAYTIME, LLC, the indoor playground has a woodlands theme reminiscent of the much-beloved tourism and vacation spots in Ontario.
With custom-designed carpeting and soft play elements, the airport play area not only offers a break to traveling kids and their tired parents, but helps to keep children safe.
"With all of the moving sidewalks and escalators and golf carts zipping around, airports can be dangerous places for young people," says Mugford. "Providing a dedicated play zone allows children the opportunity to play safely and expend some energy, and it offers their parents the chance to sit down, relax and watch the children having fun prior to boarding their flight."
Mugford adds that the Toronto Pearson Airport children's play area is all part of a greater focus on service.
"More and more focus is being put on guest amenities to improve the travelling experience. We recognize that travelling does not have to be tedious, so we are working to understand our guests better and provide them with services, amenities and activities that will offer a feeling of being welcomed, relaxed and delighted," she said.